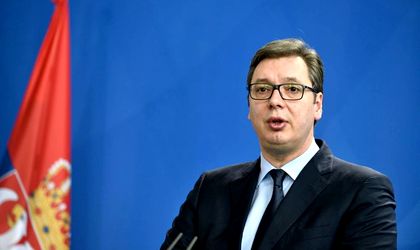 The president of the Republic of Serbia, Aleksandar Vučić, is making an official visit in Bucharest today, at the invitation of President Klaus Iohannis. Vučić will also meet with PM Viorica Dancila and the president of the Chamber of Deputies, PSD leader Liviu Dragnea.
The visit is taking place following intense Romanian-Serbian bilateral contacts over the last few years and confirms the positive nature of the relationship between Bucharest and Belgrad. President Klaus Iohannis made an official visit in the Serbian Republic in July 2015.
During their discussion, Klaus Iohannis and Aleksandar Vučić will approach ways to improve the bilateral relationship, both at a political as well as an economic level. They will also discuss the ways in which Romania can support Serbia's accession to the European Union, including from the perspective of Romania's Presidency of the European Council in the first semester of 2019.
The two presidents will also approach the issue of national minorities in the two countries, a common interest regarding the cooperation in the West Balkans, as well as the evolution of the Kosovo file. They will hold a common press conference at the end of the meeting.