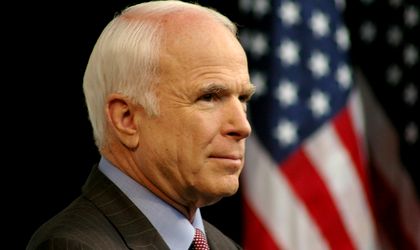 US Senator John McCain, chairman of the Senate Armed Services Committee, said in a statement that the government's decision to decriminalize certain graft offenses, undermines Romania's progress in its fight against corruption and it could stall further anti-corruption efforts.
"The Romanian people clearly understand the implications as more than 200,000 protestors poured into the streets yesterday and continue their demonstrations today. I hope the Government of Romania will heed these concerns and prevent backsliding on its reform efforts," said McCain, who mentioned that both president Klaus Iohannis and the judicial community warned such amendments could undermine Romania's rule of law and its international standing.
The senator went further to say that Romania has almost 600 troops fighting in Afghanistan and it hosts the missile defense shield at Deveselu, which is a key asset of NATO in the region.
"The integrity of rule of law, including critical anti-corruption legislation, is a cornerstone of Romania's vibrant democracy and is an integral component of what makes Romania a more capable and reliable ally. With ever-increasing threats to democracy in Europe today from Russia and its proxies, Romania cannot afford to retreat in the fight against corruption," said the Republican senator.
People rallied for the fourth night in a row across the main Romanian cities, asking the government to repeal the controversial amendments to the Criminal Code.
Ovidiu Posirca