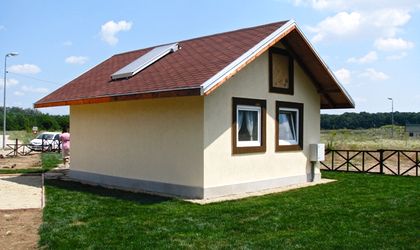 An investment of EUR 18,411 is enough to have a house in the middle of nowhere with all the necessary services, according to Impact Developer & Contractor and Destiny Wheel, two local companies that last week launched the Active Home concept, which gives householders independence from utilities suppliers.
The concept is an integrated system that comes with solutions for water supply, sewage, heating and electricity. "Active Home was designed to meet the needs of all those who live or would like to build a house in areas that for different reasons don't have access to utilities, as well as for those who are not satisfied with their suppliers or would like to get rid of monthly bills," said company representatives.
The companies hope to get 20 clients for the solutions by the end of this year, Dan Ioan Popp, general director of Impact Developer & Contractor, told BR. "Afterwards we will set a new target for next year based on the feedback we get from our users," he added.
Access to water is provided through a 60 m well attached to a 0.37 kw pump which maintains water pressure. The house also comes with a domestic wastewater treatment plant using active mud technology.  Electricity is provided by solar panels on the roof.
The cost of implementing the system for a house with a surface of 120 sqm and using equipment with increased parameters to meet the requirements of an average family is EUR 18,411, compared to EUR 16,500, which is the cost of connecting the same house to conventional utilities suppliers, say the two companies. While monthly bills for conventional utilities reach RON 647 for a family of four, with the Active Home system the sum can decrease to RON 350, according to the firms.
In ten years, a family can therefore save about RON 28,000 (approximately EUR 6,500) from this price difference alone. Also, the price of land without access to utilities has been up to 50 percent cheaper in Bucharest in the past six months say the companies' representatives, who add that this is another argument in favor of using this kind of self-sufficient system.
A prototype of the Active Home house has been set up on Padurea Neagra Street in Bucharest. 
Simona Bazavan