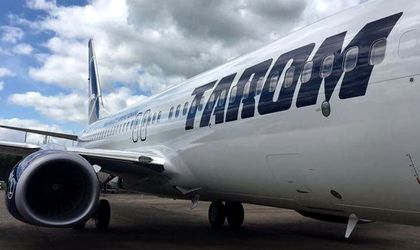 The second Boeing 737-800 NG airplane will join Tarom's fleet the next week. Two other long-carrier airplanes will be added for flights to China and the United States of America later this year, said on Wednesday the minister of transports, Razvan Cuc.
At the beginning of this month, Cuc announced that Tarom, the state-owned airline, signed the acquisition of two new Boeing airplanes, with 189 seats, through a leasing contract. The first aircraft entered Tarom's fleet this week.
The two new aicrafts are contracted in operational leasing for 10 years from Air Lease, after the airline Pegasus Airlines which bought them, gave them up, according to Tarom's representatives.
After 10 years, Tarom will decide if it acquires or not the two airplanes, according to their usage level, according to the general director of the company, Eugen Davidoiu.
According to him, the two new airplanes will be used on routes to Madrid, Tenerife, Tel Aviv and Larnaca. The acquisition was necessary after two aircrafts AirbusA310, bought in 1992 by the Government Petre Roman, were withdrawn.
"The two Airbus A310 will be sold probably this year through a public procedure. If we obtain EUR 10 million from this transaction, it's OK, " said Davidoiu.