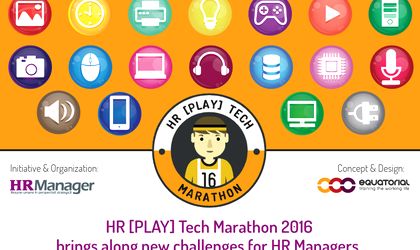 On November 10, the second edition of HR [PLAY] Tech Marathon  involving teamwork, competition, social responsibility and game elements: learn, "run" and give, will take place on at Pullman Hotel, World Trade Center, World Trade Plaza Hall.
HR [PLAY] Tech Marathon 2016 brings new challenges for HR managers, new trends and recruiting solutions, engagement methods, learning, well-being and HR software instruments are going to be the themes of a dynamic and engaging game supported by technology.
With a concept and design made by Equatorial, the new edition aims to connect HR professionals with HR related services providers in a friendly and effective way and to facilitate understanding and assimilation of the solutions, focusing on the direct benefits for HR managers and on the manner in which they can achieve their professional goals and maximize results.
The event is going to be a learning-through-play marathon with rules, challenges and specific race rewards.
The game room is divided into 4 content zones corresponding to the most important concerns of nowadays HR managers:
Improve your employees experience;
Keep up with the newcomers;
Embrace the human side of business;
Upgrade your workforce skills in the most friendly and engaging way
Four game rounds with presentations, panels and challenges for 100 HR decision makers and professionals will take place in each content zone.
Like the previous edition, this year's event brings along a component of social responsibility. The collective effort of the participants, the points they will accumulate during the game more exactly, will be transformed into food that will be donated to a humanitarian association.
Among this year's Race Coaches are: Casandra Picotti, Recruitment, assessment and employer Branding coordinator at Telekom Romania, Diana Adam, Organisational Development Project specialist at Telekom Romania, Madalina Danis, Implementation manager, UCMS Group part of TMF Group, Madalina Colea, Business Development manager and Payout Payroll Outsourcing at Crowe Horwath International member, Mihai Laurentiu Ganj, managing director of International House Bucharest.
Georgiana Bendre