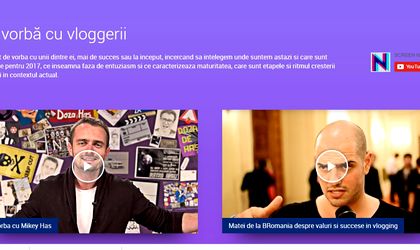 Six million views and almost 20.000 new subscribers add every week the 100 YouTube channels that make up the Romanian so-called vlogosphere.
This is the year in which the first Romanian channel reached 1 million subscribers and the video content production explodes in all sorts of directions, from the veterans that succeed in producing true shows or benchmarks of popular culture, up to those that enter the field and, through successful formats and approaches succeed in raising in a spectacular matter in just some months.
Battling any TV station in demographics of the people over 25 years old and detached leaders on the youngers' segment, with ages in between 12 and 30, the new Internet stars succeeded in 2016 in rearranging more and more important budgets in their direction and to trust in a 2017 that will make justice for the video content.
In this context, Screen Native created the local 100 vloggers top, an initiative that will allow the brands or the interested parties to choose better who they are, what they have to offer and how it can be efficiently collaborated with the newcomers on the radars of the companies' marketing budgets.
The top is available here and is dynamically built: it gets updated every week and puts in context a first division on categories of the vlogosphere, an evaluation of every category's haul and the relevance towards the groups' ages of every channel.
The main top is firstly created after the channel's number of the subscribers, but it can be re-evaluated after the number of views, new subscribers or the number of new clips added, in order to establish the biggest growth and the biggest areas of success in the last week, going up to the materials that generated this success.
Alongside the main top, the specialists are also evaluating the top on every category, creating an infographic with the up to date vlogosphere's status and are offering also some relevant interviews with famous vloggers or ones that are just at the beginning of the career, interviews that are about the main steps in their developing and the way in which they want to collaborate with the brands.
The top is a place that Screen Native wants to permanently amend with information and new interpretations, able to offer access to a complex as possible image over the video phenomenon in Romania, trying to educate and orient the brands towards the most appropriate associations with this new media.
Screen Native is a full service, digital at the core, communication agency that proposes itself to inform and facilitate the brands' access to the best communication solutions in the context of the new media and on all the available screens.
Romanita Oprea