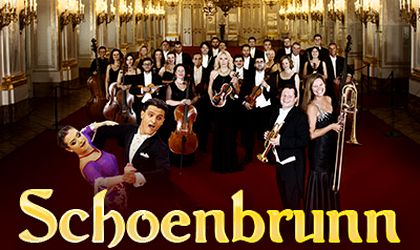 Schoenbrunn Palace Orchestra Vienna announced new performance in Bucharest, on December 23, starting 8 PM. 
"It's very hard to perform Viennese music. If you want to join the Viennese orchestra you need to live in Vienna, to feel the heart of the city and especially to really feel how the people are. It's the only way you can integrate in this lovely orchestra! Then, we are rehearsing a lot, we are singing a lot and we are travelling a lot. We are on tour five months per year, it's a very difficult tour for this music is not easy to play. You need a lot of discipline, there is no other option," Guido Mancusi said.
The Viennese "ball" will open at 7 PM, while starting 8 PM music lovers will enjoy live the waltzes that could be heard in the Schoenbrunn Palace in Vienna during centuries. There will be 25 musicians and five pairs of professional dancers.
The Christmas concert will be animated this year by "Pas in doi' professional dance group, with five pairs of dancers, dance champions in Romania and abroad.
"We have been raising performing dancer generations for 25 years, achieving remarkable results in the country and abroad. We put a lot of passion in all that we do. We are passionate dancers who want to give you the beauty and joy of movement, in order to re-discover yourself, for the freedom of socialize, for elegance, soul and spirit… Passion, discipline and obstination that led us to become champions are the ones that gave us the strength to set up this troupe "Pas in Doi" with the joy of continuing to experience and share "the mystery" of the dance with the others", said the dance group officials.
The Italian-born baritone Marco Di Sapia is the newest member to tread the board at Sala Palatului, next to soprano Milena Arsovska, in an most-expected event offered as a special Christmas concert to all music lovers.
Tickets are available on Eventim.ro for RON 199 (first category) and RON 99 (second category).
A new category of tickets, for the price of RON 99, have been put up for sale. The new category provides seats in H, I, D, B and C sectors, starting with line 25.
Georgiana Bendre