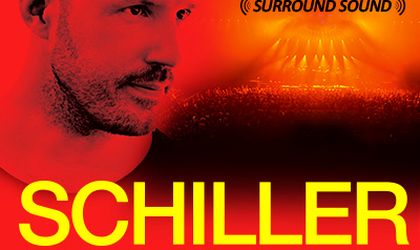 Schiller is coming for the first time in Romania on October 22 at Sala Palatului in Bucharest for a show that starts at 8 PM, say the organizers from the German Quality Entertainment.
The music project created by the German electronic musician Christopher von Deylen launched his 9th studio album "Future" in February. The album was released on February 26. On this album Schiller has collaborated with the singers Kêta, Arlissa, Emma Hewitt, Samu Haber, Sheppard Solomon, Maggie Szabo, Cristina Scabbia and Tawgs Salter and with Sharon Stone, who wrote the lyrics of "For You". The album reached in its first week number 1 of the German albums chart.
It was released in different editions, including the limited "Ultra Deluxe Edition". It's the first studio album of Schiller with a title in English.
The music video of The Future I + II had its world premiere on December 26, 2015 on YouTube. The first single Paradise featuring Arlissa was released in February 2016 and the music video had its premiere on February 17, 2016.
For the production of the album von Deylen left Berlin and moved to California.
Named after the German poet Friedrich Schiller, production duo Schiller originally consisted of Mirko von Schlieffen and Christopher von Deylen. Aside from the Schiller project, both von Schlieffen and von Deylen worked on outside projects. From 2004 through 2012, Schiller released five studio albums and three live sets in Europe; in the United States, four albums appeared during the same period. In 2013, Schiller rose to the top of the German chart with the album Opus, which also went Top Ten in Austria and Switzerland, while an American variant of the album was released as Sun. Cinematic album nine, Future, was inspired by time von Deylen spent in the Mojave desert.
Starting today, there are more tickets available for second and third price categories: RON 99 and RON 59.
Georgiana Bendre