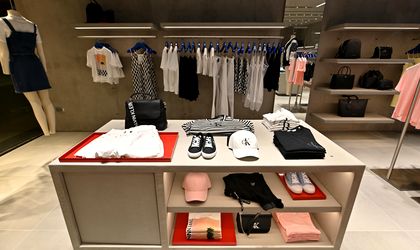 SARKK SA, the exclusive distributor and franchise partner of CALVIN KLEIN in Romania, announces the opening of the first CALVIN KLEIN JEANS store in Timișoara. The store is the first to be located in the west of the country, in one of the largest Romanian shopping centers – Iulius Mall Timișoara, and is a step forward in implementing the plan for brand development on the Romanian market.
By Romanita Oprea
Present on the ground floor of the shopping center, the new Calvin Klein Jeans store covers an area of over 120 square meters and brings together the latest established clothing lines, defined by minimalist style and sober cuts, proposing a wide range of products, from denim iconic pieces to casual footwear styles and bold accessories. The chic, modern lines provide clothing made of superior materials, an inimitable attention to detail and unparalleled execution exuding eminence without question. Timeless yet contemporary, classic yet provocative, the summer collections for men and women are designed to elevate your look whatever your style, while being also defined by some of the most important values of the brand: functionality and utility. Moreover, they embrace inclusivity with essential pieces in all sizes that encourage people to express themselves on every occasion. Compelling, cutting-edge, and with stunning style credentials, runway-inspired apparel has never been so transcendent or complete.
The new CALVIN KLEIN JEANS store showcase the latest CALVIN KLEIN retail design concept, with a modern, minimalistic aesthetic and clean, concrete-led finishes with pop up color details that put the clothing products and the customers in the spotlight. A place where the real you comes through – bold, courageous, natural. A place where creativity finds expression and the sky's the limit for all your day-to-day outfit ideas.
The CALVIN KLEIN team has taken all the necessary measures in order to ensure the customers' health and safety. The customers can enjoy their shopping experience without concern, while discovering the fun, inspiring world of CALVIN KLEIN, as strict precautions have been implemented inside the new store, in line with the official guidelines.
CALVIN KLEIN is a global lifestyle brand that exemplifies bold, progressive ideals and a seductive aesthetic. We seek to thrill and inspire our audience while using provocative imagery and striking designs to ignite the senses.
Founded in 1968 by Calvin Klein and his business partner Barry Schwartz, we have built our reputation as a leader in American fashion through our clean aesthetic and innovative designs. Global retail sales of CALVIN KLEIN brand products exceeded $9 billion in 2018 and were distributed in over 110 countries. Calvin Klein employs over 11,500 associates globally. We were acquired by PVH Corp. in 2003.
SARKK SA, founded in 1998, is the exclusive distributor of Tommy Hilfiger in Greece, Cyprus, Romania, Bulgaria, Albania, North Macedonia and Moldavia. The Tommy Hilfiger products are offered through TOMMY HILFIGER stores, Shop-in-Shops, Outlets and an extensive network of selected stores.
As of July 1st, 2019, Sarkk SA has been appointed as the exclusive distributor and franchise partner of CALVIN KLEIN in Greece, Cyprus, Romania, Bulgaria, Albania and North Macedonia.
Always aiming for a healthy and stable growth and driven by corporate social responsibility values, SARKK SA, with stable and confident steps, is one of the healthiest corporations in the industry and is expanding by captivating even the most demanding consumers.