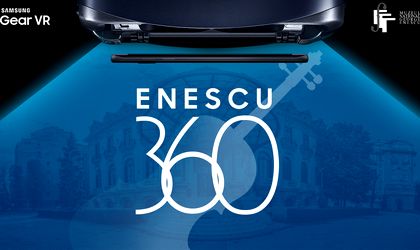 Samsung Electronics Romania brings the first digital exhibition on Gear VR that takes you in the world of the artist George Enescu. The visitors that enter the George Enescu Museum in Bucharest will be able to travel on the footsteps of the maestro, experimenting through Gear VR a complete tour of the memorial houses of George Enescu from Liveni, Dorohoi and Sinaia.
The experience represents a virtual experience that ensures a complex in the maestro's houses: The Memorial House George Enescu from Liveni, The National Museum George Enescu from Dorohoi, The National Museum George Enescu from Sinaia and The National Museum George Enescu from Bucharest, both at the Cantacuzino Palace and the Memorial House inside the Palace.
The Enescu 360 Exhibition is now permanently present during the National Museum George Enescu. Also, it is included in the Gear VR Gateway app, available in Oculus Store.
Samsung developed locally a program of modernization and digitalization dedicated to the cultural field since 2013. This year, the company had already launched a pilot project dedicated to the Memorial Museum George Enescu in Dorohoi. Through the educational app "Acasa la Enescu" (Home at Enescu), developed by Samsung, the public, especially the young one, has access in an interactive and digital way to the available exhibits in the memorial house of one of the most important composers.
"This type of initiative through which we succeed, with the help of technology to offer interactive access so as to discover the Romanian values, which helps us to come closer to the teenagers and to propose to them new viewing and learning experiences," said Cristina Andrei, general director at the George Enescu National Museum of Bucharest.
Romanita Oprea