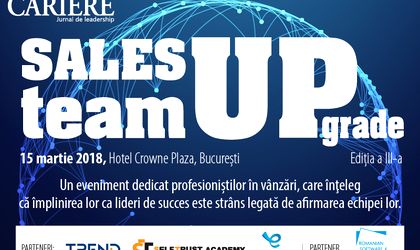 CARIERE Magazine organizes the third edition of the Sales Team Upgrade event on March 15, 2018 at the Crowne Plaza Hotel in Bucharest.
The event will present strategies to improve sales outcomes and solutions for individual and team performance. It addresses the most important challenges in the business area. Sales Team Upgrade brings to light the changes appeared in the digital era that announce major changes in the sales department.
The conference will open with a panel with topics focused on salesperson's performance, how sales organizations adapt to changes in the marketplace, whether the sales department changes, and how salespeople can benefit from the information revolution that is the consumer profile and seller profile in the Digital Age.
Among the speakers are Marius Decuseara Brandenburg (Managing Partner Trend Consult), Andrei Dunuţă (Co-Founder, SELFTRUST Academy), Mihai Gavan (Charisma HCM Operations Director Total Soft) Adrian Florea (Business Advisory Trend Consult), Cezar Gumeni (Senior Consultant – EVOLUTION Consultants Network) and others.
More details on participation and registrations can be found on the event site www.salesteamupgrade.ro.
Three parallel workshops will take place at the event:
Building a strong sales culture, workshop supported by Adrian Florea, Business Advisory Trend Consult. It will discuss ways to evaluate sales team culture, performance sources and bottlenecks, assessing long-term development potential, current sales team practices, sales styles and myths.
Sales Speech – Having the Answer, workshop supported by Andrei Dunuta, Selftrust Academy Co-Founder
SIMSales, a playful simulation workshop of the sales process, supported by Cezar Gumeni, Senior Consultant Evolutive Consultants Network. The participants will simulate the whole process of selling, developing relationships and making decisions and will compete for the best score of efficiency. They will learn to build and develop lasting relationships with customers, identify success factors for each of the 7 sales steps, optimize customer communication to maximize sales outcomes.
The audience will be made up of about 100 sales managers with decision-making power and direct impact on the performance of the companies they belong to. The participants will enjoy a quality learning and relationship experience with presentations, interactive sessions and workshops aimed at increasing the performance of the sales team.
The event's partners are Trend Consult, Self Trust Academy, Evolutive Consultants. The annual partner is Romanian Software.
We invite you to watch the latest updates on www.salesteamupgrade.com.
More details about the event can be found at Laura Gheboianu, phone: 0726 768 079 or email at events@cariereonline.ro.