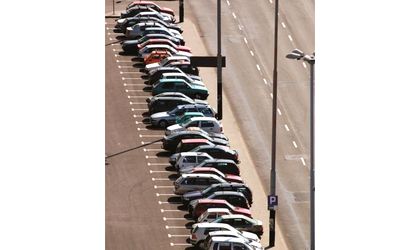 Total sales for new vehicles have decreased by 10.5 percent in the first seven months of 2011 versus the similar period of 2010, according to Agerpres newswire that quotes data from the Auto Manufacturers and Importers Association.
Total car sales registered a 14.7 percent drop on a volume of 52.249 units. In the first seven months of 2010, car and commercial vehicles totaling 61.080 units were sold. Dacia sold 15.270 units, obtaining a 29 percent share of total sales.  Trailing behind the Romanian manufacturer are: Volkswagen (5.501 units), Skoda (4.688 units), Renault (3.788 units) and Opel (2.989 units).
According to APIA, the main causes for sale drops are linked to the slow functioning of Rabla programme (a state programme that seeks to remove old, polluting and inefficient cars of the streets), the maintenance of VAT non-deductibility for corporate purchases of auto vehicles and the lack of financing opportunities for people who are looking to buy a new car.
The national production decreased by 8.4 percent to 201.271 units, while the car segment decreased by 9.2 percent to 185.580 units. Commercial vehicles registered a 2.2 percent reduction in volume to 15.184 units. Exports towards West Europe countries reached 89 percent, a 2 percent increase to values reported in the previous month.     
Exports have also dropped by 7.7 percent on a total volume of 179.465 units. The volume of car exports decreased by 8.7 percent to 165.300 units versus 181.042 in the similar period of 2010. However, the volume of exports for commercial vehicles increased by 5.1 percent.
Imports of vehicles have also decreased by 7 percent in the first seven months of 2011 versus the similar period of 2010.
Ovidiu Posirca