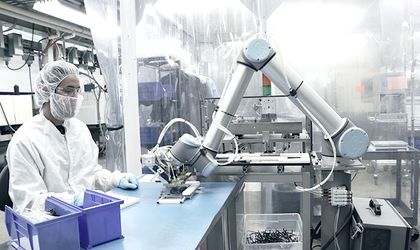 Sales of industrial robots have doubled in the last 4 years and 5 countries – China, Japan, South Korea, the United States and Germany accounted for nearly 73 percent of total robot demand.
The results of this year's International Federation of Robotics (IFR) report were announced at a press conference at the World Robot Summit in Tokyo.
The main findings of the study show that investment in industrial robots continues to grow rapidly. Global industrial robot sales doubled in 2017 compared to 2013 (114 percent growth) and the forecast for the next three years (2018-2021) shows that sales will average 14 percent a year.
Year 2017 saw a record 381,000 robots delivered globally, a 30 percent increase over the previous year. Sales volume advanced 21% over the same period, to EUR 16.2 billion.
"As with previous IFR reports, this year's conclusions are in line with our own estimates. We see a significant interest and desire to automate industrial processes. More and more companies – regardless of size – recognize the benefits of using robots in their production processes, "says Esben Ostergaard, co-founder and CTO at Universal Robots.
In the 2018 report, the IFR highlights many state-of-the-art technologies, such as the concept of human-machine collaboration and simple programming of robots, which will help improve production productivity and expand the number of applications for robots.
"Robot-based automation improves product quality and streamlines production flow. Collaborative robots – based on human-machine collaboration – are particularly effective because they work with employees instead of replacing them. of consumer goods with a specific human element, along with high quality products, "says Ostergaard. Universal Robots has always believed in simple programming, which is one of the reasons why the company is the market leader in collaborative robots today.
The report notes a growing demand for robot-based automation, especially in the automotive, electronics and metallurgy industries.