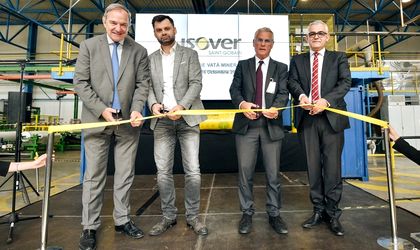 The Saint-Gobain Group in Romania announces the resumption of production at the Fiberglass mineral wool line at the Isover plant in Ploiesti, following an investment of EUR 5 million.
After a massive technological upgrading, the glass fiber mineral fiber production line re-opened in August almost two years after the temporary cessation of activity, creating 50 new direct jobs and many other indirect jobs in related services.
Saint-Gobain Isover will provide products and solutions from the plant in Ploiesti for both the national market and other markets in the region, such as Moldova, Bulgaria, Hungary, Serbia, Croatia, Bosnia, Macedonia, Kosovo and Albania.
"The Isover plant in Ploiesti is a strategic asset for Saint-Gobain, being one of the few mineral wool factories that produces both glass wool and mineral basalt wool. The decision to reopen the glass fiber mineral fiber line is part of a wider strategy of the Saint-Gobain Group in Romania, being generated by the positive trend recorded by the last year's construction market and the desire to strengthen our commitment to the local and regional market, "said Ovidiu Pascuţiu, general manager of Saint-Gobain Construction Products Romania – Rigips and Isover.
The glass fiber mineral fiber production line will have a production capacity of over 20,000 tons per year, and next year Saint-Gobain Isover estimates that it will reach 170 employees.