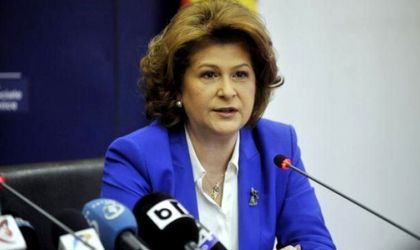 European Commission President-elect Ursula von der Leyen held a press conference on Tuesday to present her proposals for the structure of the next Commission, which will have to be approved by the European Parliament. Romania has been assigned the Transport portfolio, to be led by Rovana Plumb, who was elected as an MEP in the May 26 election.
Ursula von der Leyen wrote a letter to Rovana Plumb outlining the principles of the next Commission and the specific tasks of the Transport Commissioner:
"Your task over the next five years will be to ensure that European transport is sustainable, safe, affordable and accessible.
To ensure that we have a transport sector fit for a clean, digital and modern economy, you should put forward a comprehensive strategy for sustainable and smart mobility. As part of this, you should focus on increasing the uptake of sustainable and alternative transport fuels for road, maritime and air transport.
You will lead work on extending the Emissions Trading System to the maritime sector and reducing free allowances for airlines.
I will ask you to play a leading role in international forums, notably in negotiations on global emission reduction within the International Civil Aviation Authority and the International Maritime Organization.
You will contribute to the zero-pollution ambition, focusing on mitigating the impact of transport on our climate and natural environment, from emissions reductions to air, water and noise pollution.
I want you to contribute to the review of the Energy Taxation Directive to align it with our climate ambitions and bring an end to fossil-fuel subsidies.
We must also make the most of the opportunities linked to connected and automated mobility, with a strong focus on digital innovation. You should ensure
the continued modernisation of key transport systems.
I want you to focus on a fair and functioning internal market for transport. We need to complete the missing infrastructure links and the Trans-European Transport Network as swiftly as possible.
As transport evolves and modernises, you should ensure that it remains affordable, reliable and accessible, notably for those on a low income or living in remote areas, and that passenger rights are respected.
Cutting across all of your priorities is the need for the highest safety standards. This is becoming all the more important as traffic increases and security threats become ever more complex.
I want you to strengthen cooperation with key partners to enforce existing agreements, open up new market opportunities, promote high safety standards and improve connectivity links, particularly in our neighbourhood and in the Western Balkans.
You should ensure the implementation of dual-use infrastructure projects to improve military mobility, using the funds earmarked in the Connecting Europe Facility."
The full list of Commissioners-designate:
Johannes Hahn (Austria) will be in charge of 'Budget and Administration', and will report directly to Commission President Ursula von der Leyen. As a long-serving member of the College, he knows about the importance of nurturing a modern administration.
Didier Reynders (Belgium), who trained as a lawyer, is a highly experienced former national Finance Minister, Minister for Foreign and European Affairs and Minister of Defence. In the new Commission, he will be responsible for 'Justice' (including the topic of the rule of law).
Mariya Gabriel (Bulgaria) is a current European Commissioner. She worked with dedication and energy on the digital portfolio, and is now moving on to create new perspectives for the young generation ('Innovation and Youth' portfolio).
Stella Kyriakides (Cyprus) is a medical psychologist with many years of experience in the field of social affairs, health and cancer prevention. She will lead the 'Health' portfolio.
Kadri Simson (Estonia) is a long-serving member of the Estonian parliament and Minister for Economic Affairs and Infrastructure. She will be in charge of the 'Energy' portfolio.
Jutta Urpilainen (Finland) was not only Finance Minister and a long-standing member of the Finnish Parliament's Foreign Affairs Committee; she has also worked as a special envoy in Ethiopia. She will take over responsibility for 'International Partnerships'.
Sylvie Goulard (France), former Member of European Parliament, is a dedicated and convinced European. As the 'Internal Market' Commissioner, she will lead our work on industrial policy and promote the Digital Single Market. She will also be responsible for the new Directorate-General for Defence Industry and Space.
László Trócsányi (Hungary) is the former Minister of Justice of Hungary. He will lead the 'Neighbourhood and Enlargement' portfolio.
Phil Hogan (Ireland), the incumbent Commissioner for Agriculture, will bring his experience to the new Commission in the 'Trade' portfolio.
Paolo Gentiloni (Italy), former Italian Prime Minister and Minister of Foreign Affairs, will be sharing his vast experience in the 'Economy' portfolio.
Virginijus Sinkevičius (Lithuania), Lithuanian Minister for Economy and Innovation, will be responsible for 'Environment and Oceans'.
Nicolas Schmit (Luxembourg) is bringing his experience from the European Parliament and his service as national Minister for Employment and Labour, and will now be responsible for the 'Jobs' portfolio.
Helena Dalli (Malta) has dedicated her political life to equality, serving as Minister for Social Dialogue, Consumer Affairs and Civil Liberties, and also as a Minister for European Affairs and Equality. She will lead the 'Equality' portfolio.
Janusz Wojciechowski (Poland) was a long-serving Member of the European Parliament in the Agriculture Committee, and is currently a Member of the European Court of Auditors. He will be in charge of the portfolio 'Agriculture'.
Elisa Ferreira (Portugal) is currently Vice-Governor of Banco de Portugal. She has been a Member of the European Parliament for many years, and was the Portuguese Minister for Planning and Minister for Environment. She will lead the 'Cohesion and Reforms' portfolio.
Rovana Plumb (Romania) is a Member of the European Parliament (Vice-President of the Social and Democrats Group), and is a former national Minister of Environment and Climate Change, Minister of Labour, Minister of European Funds, Minister of Education and Minister of Transport. She will be in charge of the 'Transport' portfolio.
Janez Lenarčič (Slovenia) is a Slovenian diplomat. He was Secretary of State for European Affairs, and worked closely for several years with the United Nations, the Organisation for Security and Cooperation in Europe and the European Union. He will be in charge of the 'Crisis Management' portfolio.
Ylva Johansson (Sweden) is national Minister for Employment but also a former Minister for Schools and Minister for Health and Elderly Care and member of Swedish Parliament. She is also a highly respected expert in the fields of employment, integration, health and welfare. She will lead the 'Home Affairs' portfolio.