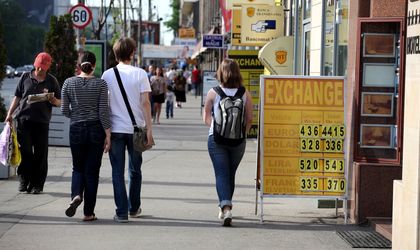 The Romanian currency RON has appreciated on Friday to a seven-week high against the Euro and gained 0.3 percent since Tuesday, when the Constitutional Court (CCR) decided that President Traian Basescu can return to office.
The Euro fell against the RON, losing 0.1 percent to RON 4.4819 on the previous day and 3.5 percent since the record rate of August 3. Meanwhile, the US dollar decreased by 0.3 percent to RON 3.5739. The US currency has depreciated by 1.4 percent since the CCR announcement. One gram of gold added 0.3 percent to RON 191.5270.
In the year to date, the RON has lost 3.6 percent against the euro and 7.6 percent versus the US dollar.
The domestic currency slipped to record lows against the euro and the US dollar in the past two months fueled by the political crisis that began in early July, when the Parliament suspended President Basescu on allegations that he breached the constitution.
Ovidiu Posirca