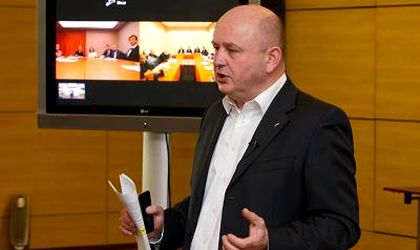 Telecom operator Romtelecom has launched, via its business solutions division, a Video Collaboration Network (VCN) in collaboration with Polycom, following a joint investment of EUR 1 million from the two companies.
VCN can be used on mobile platforms- smartphones and tablets using Android or iOS operating system- as well as desktops with a dedicated screen, at HD standards.
At the moment, the system is in the pilot stage, having been installed so far in four hotels: Ramada Nord in Bucharest, City Plaza Hotel in Cluj, Hotel Timisoara and Ramada Hotel in Sibiu.
The service can be used free of charge until August, afterwards it can be used for a price that starts from EUR 50 per month. However, for actually buying the video-conferencing equipment, prices can reach several thousands of EUR.
According to Romtelecom representatives, "using the video collaboration demonstrative network, a company can save up to 30 percent of the costs."
"The video conferencing market is worth approximately EUR 3 million at the moment. We expect the market to grow by in excess of 30 percent every year," according to George Makowski, Chief Commercial Officer, Business Sector (in picture).
The company bets this solution will catch on because of two reasons. "Firstly, Romania is a very cost sensitive market and companies are striving to cut down their operational costs. Secondly, Romtelecom has been investing in this technology because we believe the network should be able to carry video," explained Makowski.
Otilia Haraga