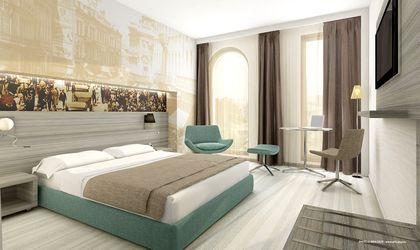 Romania's tourist accommodation capacity increased by 2.8 percent in the first seven months of this year to 353,300 places, compared to the same period last year, according to data released by the INS.
At the same time, the total number of accommodation structures (hotels, motels, hostels, hostels, etc.) reached 8.449 on July 31, 6.9 percent higher than in the same period last year.
On July 31, most hotels were categorized as 3-star (52.1 percent) and 2-star (20.6 percent). There were 36 five-star hotels in the country and 367 4-star hotels (37 more than in July 2017).
Of the total places available in hotels, 43.3 percent were in 3-star hotels, 23.9 percent in 2-star hotels, 26.8 in 4-star hotels, 4.2 percent in 5-star hotels, 1.8 percent in one-star hotels and 0.08 percent in hotels without a star-based classification, according to the INS.
Hotels were the type of tourist accommodation with the highest capacity. According to the INS, of the total of 161,700 existing rooms in accommodation establishments existing on 31 July 2018 (excluding rooms in the cottages), 98,400 (60.7 percent) were in hotels. The number of rooms increased by 1,901 in agrotouristic hostels, by 797 in hotels, 605 in tourist villas, 469 in boarding houses, and 169 in hostels.
Of the number of tourist accommodation places existing on July 31, most of them 196,700 were in hotels, followed by agro-touristic boarding houses with 48,600 seats, tourist boarding houses with 35,800 seats, tourist villas with 16,600 seats, hostels with 14,200 seats.
Rooms with a bath or shower accounted for 96.6 percent of the total rooms (excluding the rooms in the cottages). In student camps, 57.3 percent of the rooms did not have a bath or shower, according to INS.
Constanta County had the highest number of the total tourist accommodation rooms (24 percent), followed by Brasov County (8.4 percent), Bucharest (6.1 percent) and counties Bihor (4 percent), Prahova (3.6 percent) and Suceava (3.4 percent).
According to data gathered by Trivago, the countries with the most five-star hotels in 2015 were China (with almost 3,000 units), Turkey (800+) and Mexico (670+), followed by Italy (450+), India (430+) and Greece (420+).