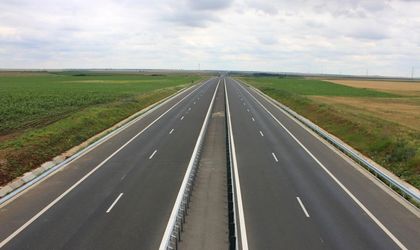 Romania's state-owned road company (CNAIR) could terminate the contract for the section 3 of the motorway A1 Lugoj-Deva, a key section for the motorway connection between Transylvania and Western Europe, after an inspection of the works this week, according to Pro Infrastructura NGO, which warns that such a decision could cause years of delay for the project.
The 21 km-long section is built by a consortium led by Spanish company Comsa, and 80 percent of the works are completed. The contract has been signed for a value of RON 580 million (EUR 125 million) and is 85 percent financed by EU funds.
According to the NGO, CNAIR employees inspected the mobilization of the constructors and found that it was inappropriate on the sections 3 and 4 of the motorway, "not taking into account that at this time of the year, before Easter holidays, builders take a few days off".
"The 'unexpected' visit and the extremely harsh position, especially to the constructor on section 3 (Comsa), denote ill will, lack of understanding of a commercial partner and duplicity, CNAIR's employees finally understanding the motives of weak work, but only for the contractor on section 4 (UMB), probably wanting to find reasons for terminating the contract with the Spanish company Comsa," Pro Infrastructura wrote on Facebook.
"Such a termination at this stage would be a disaster, both in terms of opening the motorway section, which would be postponed for a few years, but also in terms of the general contractor's financial claims that would be required because of the complete mismanagement of contract by CNAIR," the NGO added.
The 3rd and 4th sections of the Lugoj-Deva motorway are the missing link between the western part of the A1 motorway (Lugoj-Nadlac), already in use and connected to Hungary, and the Transylvanian part of A1 (Sibiu-Deva). The opening of the sections will connect Transylvania to Hungary and Western Europe through A1 motorway.
Romania is the 7th largest among EU member states in terms of population, but has only 748 kilometers of motorways, less than Bulgaria, which is about half the size of Romania.
But even the small Romanian motorway network is split in two and the country has little chance to connect the two sides within the next decade.
A recent Business Review analysis shows that Romania – which in 2018 celebrates the centennial of its union with Transylvania and other smaller provinces – is building two separate motorway networks:  one for Transylvania, connected to Hungary, and one for the Southern part of the country, around Bucharest, not connected to any other motorway network.