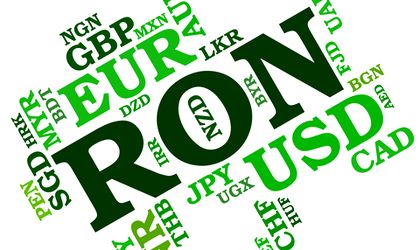 Romania's currency, RON, rose for the seventh day in a row against the European single currency on Friday, the exchange rate falling to 4.6348/EUR, the lowest level since February 5, National Bank of Romania (BNR) data show.
On Thursday, the reference exchange rate was RON 4.6397/EUR.
The Romanian currency gained 0.6 percent against the European single currency since May 2, after seven market sessions in a row of appreciation.
Experts say the RON's appreciation is due to interest rate hike decided by the central bank.
On Monday, Romania's central bank raised the monetary interest rate from 2.25 percent to 2.5 percent, the highest level since February 2015, in line with economists' expectations, who see the decision as a consequence of upward revision of the inflation forecast.
Following the central bank's move, Romania's money market rate (ROBOR), the main indicator that sets the interest rates for RON currency borrowers, reached on Thursday a 3.5-year record of 2.75 percent for the second day in a row, but declined slightly on Friday, to 2.74 percent.
The Romanian central bank also had four open market operations during the last four weeks, absorbing more than RON 18 billion (around EUR 4 billion) in the first two operations, RON 7.9 billion on April 30 and RON 3 billion on May 7 from the banks through one-week deposit tenders.
Romania's central bank head Mugur Isarescu suggests a "gradual approach" of the monetary policy in order to avoid a sharp RON appreciation.
"As regards Romania, we started the tightening of monetary policy by hiking the rate twice this year, after further narrowing the corridor around the policy rate last year, but a gradual approach is warranted by the need to avoid sharp currency appreciation in the regional context," Isarescu said on April 27 in Sofia, at The Eurofi High Level Seminar 2018.