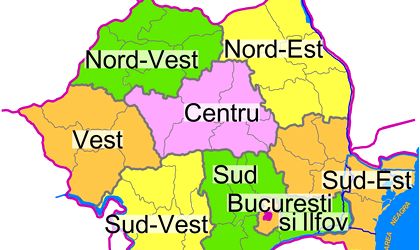 The latest official data regarding European Union's regions show EU accession process had a particular effect on Romania's eight regions: the rich areas, especially the Capital city region and the Western provinces, advanced rapidly and achieved high real convergence rates, while the poor regions made little progress toward real convergence.
In 2016, the Capital city region – București-Ilfov – was considered by EU standard a very developed region, with 39 percent above EU development average.
In fact, the region of Bucharest was already slightly above EU average in 2007, the first year after Romania's EU accession.
But the rest of the country was considered poor by any EU standard, with real GDP per capita (at purchasing power standard – PPS) levels between 27 percent (Nord-Est region) and 48 percent (Vest region), according to Eurostat data.
In 2016, income inequality between different regions in Romania has become a growing problem, even if the poor regions of Romania are less poor from how they looked ten years ago.
Eurostat data show that Nord-Est (a large part of Romania's Moldova), the poorest area in Romania and EU's fifth poorest region, was only 36 percent of EU average in terms of development in 2016, compared with 139 percent for Bucharest region, 60 percent for Vest region (including the rich Timișoara-Arad area), 54 percent for Centru region (southern Transylvania), 51 percent for Nord-Vest (northern Transylvania), 50 percent for Sud-Est region (including the rich port of Constanța), 46 percent for Sud-Muntenia and 42 percent for Sud-Vest-Oltenia region.
Compared with 2007, Vest region's GDP per capita in PPS rose 12 percentage points (pp), from 48 to 60 percent of EU average, Sud-Est with 14 pp, the two Transylvanian regions and Muntenia with 10 pp, while the two poorest areas in Romania – Moldova and Oltenia –  lagged behind with an increase of just 9 pp.
In 2016, only three out of eight Romanian regions are still included in top 20 EU poorest regions.
"After Severozapaden in Bulgaria (29% of the average), the lowest regions in the ranking were Mayotte in France
(33%), Severen tsentralen and Yuzhen tsentralen in Bulgaria (both 34%) and Nord-Est in Romania (36%).
Among the 21 regions with GDP per capita below 50% of the EU average, five were in Bulgaria and Poland, four in
Hungary, three in Romania and Greece and one in France," Eurostat said in an official report.
But Romania is still EU's second poorer nation, even if, within a decade after joining the European Union, the economy grew quickly and managed to become the largest in its region.
Economists say EU accession helps real convergence, but a good national economic strategy is key to achieve economic and social development.
"Advances in real convergence are largely determined by the growth strategy implemented by the countries themselves", wrote Carmela Martin and Ismael Sanz, in"Real Convergence and European Integration: The Experience of the Less Developed EU Members" study.
In Romania's case, no real national strategy emerged so far to address large regional differences, and the disparities between poor and rich areas have chances to become greater, experts estimate.