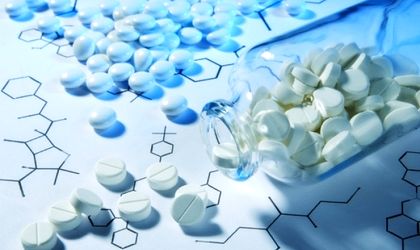 The total value of medicines received by patients in Romania totaled RON 3.29 billion on distribution prices, in the second quarter, up 16.3 percent compared to the same period of last year, according to the latest report issued by Cegedim, the provider of data for the pharma industry.
In the last 12 months, the market fell by 4.4 percent to RON 11.94 billion, compared to the July 2014-June 2015 period.
In the first six months, the market expanded by 3.8 percent to RON 6.33 billion, compared to the same period of last year.
"The increase of the market in Q2 2016 is attributable to two reasons: the value of the market in the second quarter of 2015 was unusually small (due to announcement regarding the reduction of prices of prescription based drugs starting July 1 2015), respectively the expansion of the treatment for hepatitis (which marks a premiere through the significant impact on the market). On 12 months, the reduction of the pharma market by 4.4 percent was due to decrease of prescription based medicines in pharmacies by 7.5 percent. If we exclude the introduction of the treatment for hepatitis, the reduction of this segment would have amounted to 14.8 percent," said Petre Craciun, the general director of Cegedim.
Craciun added that there is a mismatch between the public policies announced by authorities and the realities in the field. For instance, combating heart disease was identified as a priority but the market for these treatments fell by 18.6 percent.
"In the current situation, we think that the whole methodology for fixing the prices and the co-payment need a complete overhaul, but this will most probably be something that the future government will have to handle after elections," said the general director.
The prescription-based drugs in pharmacies reached a value of RON 2.33 billion, an increase of 20.8 percent. The market share of this segment was 79.4 percent. The over-the-counter (OTC) segment for drugs grew by 14.7 percent to RON 0.61 billion and had a share of 20.6 percent. Also, in the second quarter, the hospital segment fell by 4.4 percent year-on-year to RON 357.6 million, holding a share of 10.9 percent.
Top 10 pharma players by sales in July 2015 – June 2016 period
Company             Sales      Marketshare
Abbvie                  RON 932 mln      7.8%
Sanofi                   RON 815 mln      6.8%
Novartis               RON 586.3 mln  4.9%
Servier                  RON 550 mln      4.6%
Pfizer                    RON 538.7 mln  4.5%
Sun Pharma        RON 517.5 mln  4.3%
Hoffmann La Roche        RON 492.9 mln  4.1%
GlaxoSmithKline               RON 489.6 mln  4.1%
Astrazeneca                       RON 379.9 mln  3.2%
Merck & Co                        RON 322.5 mln  2.7%
Source: Cegedim Pharma & Hospital Report