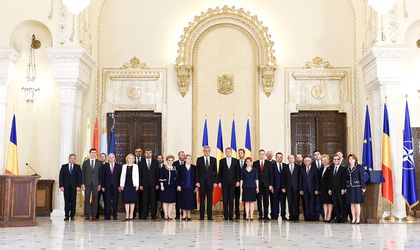 President Klaus Iohannis warned the new government led by Mihai Tudose to make sure that the country's public finances will remain stable, as the new team at Victoria Palace has announced a raft of controversial fiscal changes.
After the government was sworn in, Iohannis asked the ruling coalition comprising the Social Democratic Party (PSD) and the Alliance of Liberals and Democrats (ALDE), "stop with this fiscal-budgetary hopping".
Iohannis urged Tudose's government to keep the budget deficit below 3 percent of GDP and to maintain the defense spending allocation at 2 percent of GDP.
"Prove that we are capable of maintaining the deficit under control, to promote public and private investments, to continue to have economic growth as we have made commitments to our partners in the European Union," said Iohannis.
The governing program of Tudose's cabinet includes major fiscal changes for firms, such as the replacement of the profit tax with a differentiated taxation mechanism based on the turnover of companies.
The new government also wants to enforce the household taxation system and to limit the number of taxes for firms to 50.
Meanwhile, PM Tudose said that the second pension pillar, which is privately managed, will not be dismantled, as the minister of finance, Ionut Misa, had said during hearings in Parliament. Misa also said in a press release on Thursday evening that this pension fund will remain in place.