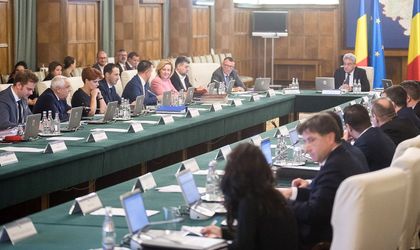 The center left government of Mihai Tudose survived a no confidence vote held on Thursday in Parliament, with the National Liberal Party (PNL) accusing the leadership of the Social Democratic Party (PSD) of "acting as an enemy of democracy".
"I am focusing on the government. We have a state we have to handle, with Romanians whose lives we have to improve," said Tudose in Parliament, if asked about the concept of "parallel state" that was promoted by the head of PSD, Liviu Dragnea.
The motion had only 159 votes in support. It should have gotten at least 233 votes to topple the government which has been in power since the summer.
The motion of no confidence was initiated by PNL and the Union of Saving Romania (USR).
"Five months since coming into power, Tudose's government was able to meet only 11 of the 343 measures that Grindeanu's government hadn't fulfilled or had met only partially as you decide it to remove it. (…) Up to this moment, when we are debating this motion of no confidence, Tudose's government has achieved only 3 percent of the governing program with which you got in Parliament and assumed the office," said Dan Barna, the head of USR.
Meanwhile, the liberal MPs have accused the ruling coalition PSD-ALDE of attacking the judiciary.
Some 5,000 people outside the Parliament building protested during the debates. They were called by the PNL and were asking for the resignation of the current government.