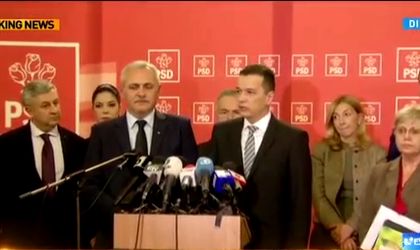 The PM-designate Sorin Grindeanu announced on Tuesday afternoon the proposed list of 26 ministers in the new government that will have to receive the vote of MPs in a meeting scheduled for Wednesday.
According to the proposed government structure, both Sevil Shhaideh, who was rejected by president Klaus Iohannis as PM-designate, and Daniel Constantin will hold the role of deputy PM.
The social democrats have 22 ministers, while the rest come from the Alliance of Liberals and Democrats (ALDE), the political allies of PSD. The proposed government is political and does not include any technocratic officials.
"I understand my role very well: we are a political government, but the politics is done elsewhere. We will be in government to administer the country," said Grindeanu in a press conference.
The proposed list of ministers:
Minister of Regional Development – Sevil Shhaideh – previously held the same role
Delegate minister of European Funds – Mihaela Virginia Toader
Minister of Environment – Daniel Constantin – former minister of agriculture
Minister of Economy – Alexandru Petrescu, the current head of Posta Romana
Minister of Foreign Affairs – Teodor Melescanu – previously held the same role
Delegate minister of European Affairs – Ana Birchall
Minister of Interior – Carmen Daniela Dan
Minister of Agriculture – Petre Daea
Minister of Defense – Gabriel Beniamin Les
Minister of Culture – Ioan Vulpescu – previously held the same role
Minister of Education – Pavel Nastase
Minister of Research and Innovation – Serban Valeca
Minister of Energy – Toma Florin Petcu
Minister of Public Finance – Viorel Stefan 
Minister of Justice – Florin Iordache
Minister of Waters and Forests – Adriana Petcu
Minister of Labor – Lia Olguta Vasilescu
Minister of Communications – Augustin Jianu
Minister of Health – Florian Dorel Bodog
Minister of Youth and Sports – Marius Dunca
Minister of Transports – Razvan Alexandru Cuc
Minister of Public Consultations and Social Dialogue – Gabriela Petrea
Minister of SMEs and entrepreneurship – Florian Jianu – previously held the same role
Minister of Tourism – Mircea Titus Dobre
Delegate minister for relation with Romanians Abroad – Andreea Pastirnac
Delegate minister for the Relation with Parliament – Gratiela Gavrilescu – former minister of Environment
What's next?
The specialized committees in Parliament will hold hearings with the prop.osed ministers and the final vote in Parliament should take place tomorrow. The PM-designate wants to hold the first meeting of the new government this week if his cabinet gets the favorable vote of MPs
Ovidiu Posirca