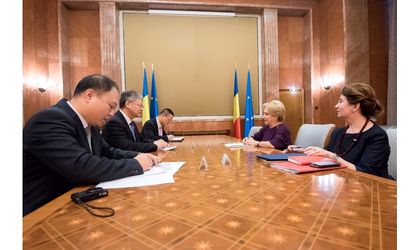 PM Viorica Dancila and the Chinese ambassador in Romania, Xu Feihong, stated that the two countries should seek to increase the political dialogue and the economic cooperation, according to a government statement following the meeting of the two state officials.
Dancila cited transport and infrastructure as the two main sectors in which Chinese investments would be welcomed. Romania seeks to cooperate with the Chinese on the development of road, ship and air transportation. The PM "thanked the Chinese side for its interest in the development of rail infrastructure in Romania, from a national perspective, but also in the regional connectivity context."
On energy, the two officials mentioned the cooperation in the nuclear energy field. At the moment, Romania has ongoing negotiations with the Chinese for the construction of two nuclear reactors at Cernavoda.
Dancila and Feihong said that tourism and people-to-people contacts have to be facilitated between the two countries.