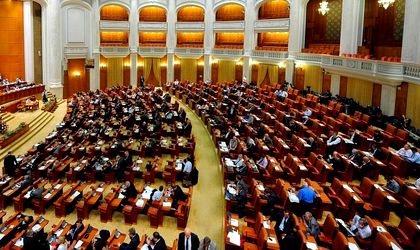 The motion of no confidence initiated by opposition parties National Liberal Party (PNL) and Save Romania Union (USR) was rejected by Parliament on Wednesday. This was the first motion of no confidence initiated against the Grindeanu Government, which assumed office on January 4.
There were 161 votes in favor and 8 against the motion of no confidence, 72 short of the minimum threshold of 233.
The motion, titled "Grindeanu Government – Government of national defiance. Do not legalize theft in Romania," was put up for debate on Wednesday in the plenum of the Parliament.
"We cannot be complacent witnesses to the attack the PSD Government of Mr. Dragnea and Grindeanu are preparing for Romanians by adopting laws that aim to amend the Criminal Code and the Code of Criminal Procedure and the amnesty of certain sentences.
Under the guise of respecting decisions of domestic or international courts, the Government endorsed by Mr. Dragnea and Tariceanu are striking against what represents the security of Romanians and their legitimate interests.
In Tuesday night's meeting at the same time, the Government has committed an abuse of office and rescued itself from the criminal consequences of this act", the text of the motion, read out loud by Liberal MP Catalin Predoiu said.
The Grindeanu Government amended via emergency ordinance 13/2017 the Criminal Code and the Code of Criminal Procedure and partially decriminalized the offense of abuse of office, sparking mass protests across the country.
The vote was secret. At the start of the meeting, there were present 379 MPs.
Georgeta Gheorghe