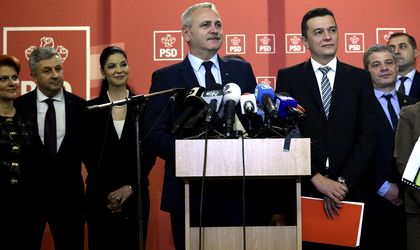 Romania has a new government starting Wednesday, after the team proposed by the PSD-ALDE coalition and led by PM Sorin Grindeanu was voted in Parliament.
The new government has 26 ministers, out of which two are delegate ministers. Grindeanu's government got 295 votes, above the minimum threshold of 232 votes for approval. There were 133 votes against the new PSD-ALDE cabinet.
Grindeanu is replacing Dacian Ciolos at the helm of the government. Ciolos said at the end of his one-year stint as PM that he might starting doing politics.
Most of the ministers in the new government are supported by the Social Democratic Party, while the center-right Alliance of Liberal and Democrats got four seats in the new executive team.
"This government will not be mine, nor of PSD, nor of ALDE, but will be Romania's government," said the PM in Parliament, before the vote.
He added that the "fight against corruption and those that are stealing has to be very firm, but we also have to be firm when it comes to the protection of the fundamental rights of humans."
One of the ministers in Grindeanu's team, the minister of labor, Lia Olguta Vasilescu, was prosecuted by the anti-graft agency DNA in an illegal campaign finance case. She was briefly detained last year and put on trial, but her file was returned to the DNA, as judges ruled out that some pieces of evidence were obtained illegally.
Vasilescu is being investigated for the 2012 campaign when she was elected mayor of Craiova city. Last summer, she was elected for a second term in the same city.
It is unclear how the new government will work with president Klaus Iohannis, considering that the party that propelled him at the Cotroceni Palace, the right-wing PNL, is in opposition in Parliament. The liberals are grappling with a leadership void after PNL head Alina Gorghiu resigned following the December 11 elections.
According to some media reports, Ciolos could become the new head of PNL.
The new government has already come under fire, with critics claiming that Grindeanu is an interface of Liviu Dragnea, the PSD head.
President Iohannis says the new government should make sure economy remains on growth path
Following the ceremony in which the new government was sworn in, president Iohannis said that the ministers and the PM should make sure that any fiscal slippages are prevented and that the combat of corruption will continue in Romania.
"I hope someday you will tell me how you will maintain the 3 percent budget deficit target, while hiking the wages and cutting taxes, VAT and other things," said Iohannis, suggesting that governing program of the PSD-ALDE coalition could be out of touch with reality.
Ovidiu Posirca