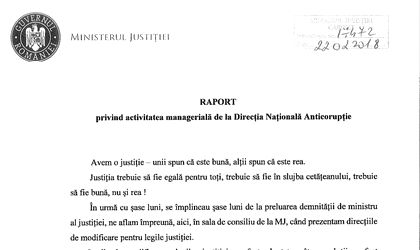 The Ministry of Justice has published on Friday afternoon on its website the assessment report regarding the activity of the National Anticorruption Directorate (DNA) in the past year. The report, which was read by the minister of justice, Tudorel Toader, on Thursday evening is the basis for the government's request to remove Kovesi from the DNA.
The posted documents include the speech of Toader and 11 annexes – decisions of some institutions and regulations.
The minister criticized Kovesi's leadership style, claiming it was excessively authoritarian and discretionary.
Meanwhile, the report was submitted to the Superior Council of Magistrates (CSM). It also has to reach the Presidential Administration.
President Klaus Iohannis said the report will be analyzed thoroughly by the Presidential Administration once the government submits it. The president will decide if he approves or rejects Toader's request.
The DNA head said that she is available to respond to any of the points raised in the report presented by Toader.
The European Commission, the executive arm of the EU, said in a statement that "The independence of Romania's judicial system and its capacity to fight corruption effectively are essential cornerstones of a strong Romania in the European Union."