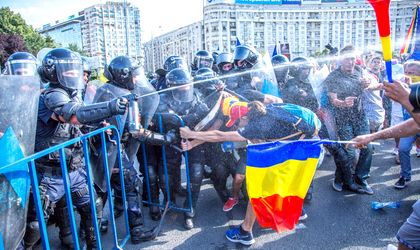 The minister of interior Carmen Dan says a secret report of around 90 pages includes details on the intervention of the gendarmes during the August 10 protest of the Diaspora which turned violent. More than 400 people received medical care following clashes with security forces and the intervention of riot police.
The minister said that 21 criminal cases were opened as a result of the violent acts during the protest and three of those have an unknown perpetrator. She added that authorities also identified five cases in which abuses were committed against people that did not commit any violent act.
Dan started her speech by apologizing to all the people that were injured in the protest, either civilians or military personnel.
"Up to now, the Gendarmerie identified hundreds of people that committed violent acts. Right now they are in the identification process," said the minister.
Dan explained that 452 people required medical care following the August 10 protest, out of which 33 were gendarmes. Out of the total figure, 70 persons were transferred to the hospital.