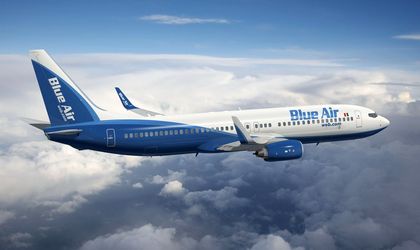 The largest Romanian airline, Blue Air, has changed its legal status, from limited liability company to joint venture. The company also changed its name to Blue Air Aviation.
"As a natural continuation of our efforts to align our organizational structure to the current operating level, we are happy to announce that Blue Air has changed its legal status from S.R.L. to S.A. by means of a decision of the extraordinary general meeting of shareholders on 3 August 2018. To mark this step, we also chose a new name that redefines our identity better: Blue Air Aviation. I trust that we will continue our healthy development and grow the company successfully from this moment onwards" said Gheorghe Racaru, Blue Air general manager.
According to the company, the move is part of the company's long-term strategy to strengthen its position and become a powerful pan-European air operator. For 2018, Blue Air Aviation estimates over 5.5 million passengers and a turnover of EUR 460 million, both of which are 10 percent more than in 2017.
The company currently employs 1,500 staff. In 2016, Blue Air became the largest Romanian airline, surpassing for the first time the state-owned company Tarom by the number of passengers transported, a status which it maintains today.
Blue Air began operations on 13 December 2004, currently operating over 106 routes in Belgium, Cyprus, Denmark, France, Finland, Germany, Greece, Ireland, Israel, Italy, Norway, Great Britain, Portugal, Romania, Sweden and Spain.