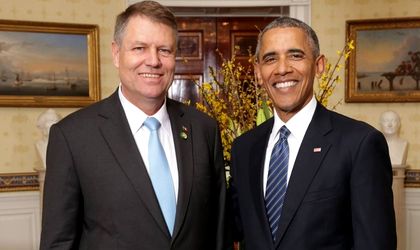 Romanian President Klaus Iohannis posted a photo of himself and U.S. President Barack Obama on his Facebook page earlier today. The photo was taken during a dinner at the White House hosted by President Obama for some 50 leaders attending the Nuclear Security Summit 2016 in Washington D.C.
President Iohanni's agenda includes a working lunch on Friday and a discussion based on the scenario of a hypothetical nuclear terrorism case — the theft of nuclear or radioactive material by non-state players and its partial use.
At the end of the summit, President Iohannis is expected to make a press statement. He will also be meeting with representatives of the Romanian community in Washington D.C, according to Mediafax.
The summit is the fourth in a larger process launched in 2010 by President Obama. "Now, in 2016, together with 52 other states, but also leaders of relevant international organisations, we will analyse what has been achieved in the past 6 years and we will decide on what needs to be down to further the international agenda regarding nuclear security," said President Iohannis in a press statement issued on Wednesday, before he left for Washington D.C.
Andreea Tint