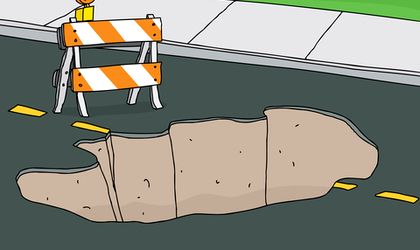 Romania has made little progress last year in modernizing its infrastructure, official statistics released on Wednesday showing that 35 percent of the roads are covered with stone and soil and only 40.5 percent are considered modernized.
At the end of 2017, Romania had 86,099 km of public roads, out of which 17,654 km (20.5 percent) national roads, 35,149 km (40.8 percent) county roads and 33,296 km (38.7 percent) communal roads, according to the National Institute of Statistics (INS).
"From the point of view of the pavement, the structure of public roads network: 34,900 km (40.5 percent) modernized roads (out of which 92.1 percent were modernized roads with hard and middle type asphalt cover), 21,074 km (24.5 percent) light covered roads and 30,125 km (35.0 percent) stone and soil covered roads," the report said.
Official data indicate a poor maintenance of public roads in Romania, 41.4 percent of the modernized roads and 48.2 percent of the light cover roads having overrun service duration.
Out of the total national roads, 35.1 percent (6,200 km) are European roads and only 4.3 percent (763 km) are motorways. Romania has 290 km of 3-lane traffic roads, 1,826 km of 4-lane traffic roads and 22 km of 6-lane traffic roads.
Photo credit: dreamstime.com