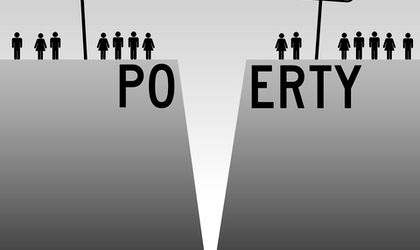 The income inequality, an index showing the inequalities in the distribution of income between the top 20 percent of the population and the bottom 20 percent, declined in 2017 for the second year in a row in Romania, to 7, but remains among the highest levels in the European Union, Eurostat data show.
This income inequality level means that the top 20 percent of Romania's population (with the highest income) received 7 times as much income as the poorest 20 percent.
The income inequality index declined in Romania from 8.3 (the highest level in the last decade) in 2015 to 7.2 in 2016 and 7 in 2017, according to EU's statistical branch.
During the last decade, the income inequality index reached a minimum level of 6.1 in 2010, during the financial crisis.
In EU, "this ratio varied considerably across the Member States, from 3.5 in the Czech Republic and 3.6 in Slovenia, Slovakia and Finland, to 6.0 or more in Bulgaria (8.2), Lithuania (7.1), Romania (7.0 in 2017), Spain and Greece (both 6.6), Latvia and Italy (both 6.3)," Eurostat said.
The European Commission, the executive arm of the EU, said in a recent report that the poverty among workers in Romania is twice higher compared with EU average and this is due to the high share of unpaid families fom rural areas.
"Poverty and social exclusion is higher especially among roma people. The risk of poverty and social exclusion among roma people is three time higher than for the rest of population. It's much higher compared with other member states that have a significant roma minority. Roma are focused on outskirts communities and two thirds of them live in places that don't have the minimum sanitary facilities," the Commission pointed out.
Photo credit: dreamstime.com