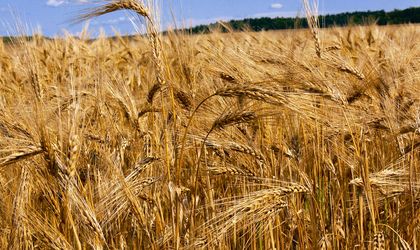 Romania's imported agricultural products amounted close to EUR 3.5 billion in the first semester of the year, a growth by 17 percent compared with the similar period of 2016, while the exports amounted by 4.5 percent more than in the analyzed period, respectively EUR 2.432 billion, according to the Ministry of Agriculture and Rural Development.
"In the first semester of the year, the commercial deficit of agricultural products deepened to EUR 1.064 billion, 60.4 percent higher compared with the level registered in the same period of 2016. The exports amounted EUR 2.432 billion," according to the analysis of the commercial exchanges with agricultural products from the first semester.
According to the statistics, the wheat is still the main exported product in the first semester of the year, reaching EUR 389 million for 2.194 million tones.
However, the delivered quantity was lower by 9.9 percent compared with the first semester of 2016 and the revenues dropped by EUR 32.7 million, considering that the wheat imports increased by 60.2 percent in quantity in the mentioned period and in value they were higher by EUR 43.5 million.
"The increasing revenues compared with the same period of 2016 were obtained from the sunflower seeds exports (+ EUR 77.4 million), cattle (+ EUR 24.8 million), sunflower oil (+ EUR 22.6 million), corn (+ EUR 14.1 million), soy beans (+ EUR 11.3 million), pork (+ EUR 10.4 million), sheeps and goats exports (+ EUR 9.9 million), food products (+ EUR 9.7 million), chocolate (+ EUR 8.4 million) and pastry products and biscuits (+ EUR 8 million)," data shows.
Also in the same period the exports' values of milk and cream increased by 32.3 percent and the cheese generated increasing revenues by 23.9 percent.
On the other hand, the tobacco exports decreased (-EUR 56.8 million), wheat (EUR 32.7 million), rice (EUR -25.7 million), rapeseed (- EUR 14.3 million) and sugar exports (-4.6 million).