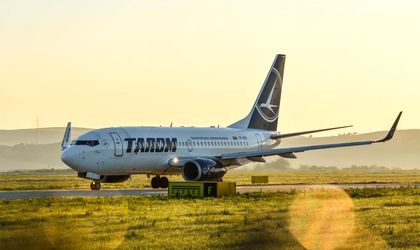 The state-owned airline operator Tarom should get a shot in the arm from the government, according to the updated governing program published by the ruling coalition PSD-ALDE. If this plan is implemented, Tarom's fleet would more than double in size.
The new government, which will be led by PM Viorica Dancila, aims to acquire 27 new airplanes in leasing system for Tarom by 2020. In addition, the state aims to standardize Tarom's fleet of planes in order to cut maintenance costs. Furthermore, the government aims to implement a direct online system for Tarom on its website and not through intermediaries.
The company should launch new routes to the US and Asia, an initiative that was also announced by the former government but never implemented.
In 2017, Tarom changed five managers and the current interim director is Wolff Werner Wilhelm. The company was set to record a loss of RON 206.7 million in 2017, according to estimates published in the Official Gazette last September.
This January, Tarom said it would reduce its losses by RON 12.7 million annually due to optimizations of its logistics activities and the IT infrastructure.
Last spring, Tarom acquired two new airplanes, taking its total fleet to 23 units.