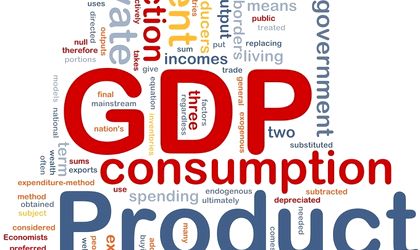 Romania's gross domestic product (GDP) jumped, in real terms, 3.8 percent in 2015 for both unadjusted and seasonally adjusted series, according to the National Institute for Statistics (INS). The 2015 estimated GDP was RON 712,832.3 million current prices.
The seasonally adjusted series of quarterly GDP was re-adjusted as a result of the revision of the GDP unadjusted series for 2015, with no significant changes being recorded as compared to the version published in March.
In terms of the fourth quarter of 2015, the gross domestic product, seasonally adjusted, amounted to RON 181,542.4 current prices, increasing in real terms by 1.1 percent against the previous quarter and by 3.8 percent compared to the fourth quarter of 2014, adds INS.
The gross value added volume has not been modified, but changes were recorded by activities, with a 0.2 percent increase in public administration and defense; social insurance of public sector; education; health and social assistance. Moreover, there was a 0.1 percent increase in information and communication, and a decrease of 0.1 percent in shows, culture and recreation activities; repair of households' goods and other services.
Additionally, net taxes on products growth rate decreased by 0.1 percent.
In terms of GDP uses, in 2015 significant changes in the contribution to the growth rate of GDP were recorded between today's report and the March version, for actual individual consumption of households (from +3.9 percent to +4.0 percent), gross fixed capital formation (+1.8 percent to + 2.1 percent), imports of goods and services (from 3.5 percent to 3.8 percent), and exports of goods and services (from +1.9 percent to +2.3 percent), according to the INS data.
Andreea Tint