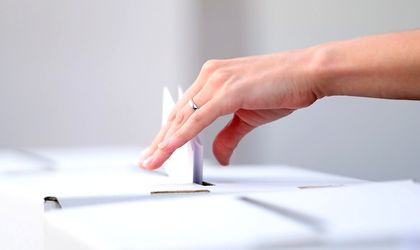 Polls opened today at 7 am for Romanians to vote in the referendum aiming to redefine the family in the Constitution. The vote will be held over two days, until Sunday evening.
9:00: BEC announced the last results of the day. The presence at the referendum in the first day was 5.72 percent. The number of the voters was 1,046,583.
7:00: BEC announces turnout rates at 7 PM: 942,381 people, meaning 5.15 percent have participated until now to the referendum.
6:25: A member of an electoral office in Bucharest reported that a person would have taken over 80 ballots and would have tried to flee with them. He was caught and criminal filed for theft.
In a village in Dolj, the police officers were notified by a man that a town hall employee would have been collecting more identity cards from the locals and would have voted for them. Police officers found 17 ID cards in their car. A criminal record for fraud was filed.
5:30: BEC announces turnout rates at 4 PM: 3.78 percent of eligible voters have participated until now to the referendum. The number of voters reached to 692,002.
Abroad, at the referendum voted, until 16.00, 21,491 Romanians. According to BEC data, 4,932 people came to Italy, 3,657 in Spain, 3,037 in the United Kingdom, 2,408 in Germany, and 1,309 in France.
2:30: BEC announces turnout rates by 1 pm: only 2.54 percent of eligible voters have participated in the referendum
1:50: Nine polling stations in the country, of which seven in rural areas, had a 100 percent turnout rate as early as 10 am.
1:00: PSD president Liviu Dragnea voted: "I voted for what millions of Romanians asked for, for what I think defines us as a society and as a nation. I think it's important for Romanians to come out to vote because we should be the ones to decide what's good for our society. I think we need to decide ourselves," he said.
UDMR leader Kelemen Hunor said he thinks that those boycotting the referendum are "doing a great harm to the idea of democracy".
12:00: Former president Traian Basescu also supported the Constitutional change. At the polling station, a young man who was part of the electoral commission and represented the opposition party USR refused to shake Basescu's hand, prompting the ex-president to say "you can't be bothered by stupidity, you can only feel sorry for it."
11.30: By 10 am, voter turnout in the referendum was of just 0.97 percent, according to the Central Electoral Bureau (BEC) report, meaning that around 177.941 Romanians voted in the first three hours.
According to AEP, the number of Romanians who have the right to vote in this referendum is 18,278,496. The turnout required for it to pass is thus 5,483,548.
11:00: Environment minister Gratiela Gavrilescu said she voted yes "so that the health of this nation and all of humanity can continue".
10:30: Patriarch Daniel voted at a school in Bucharest and said it was an honor for him to take part in the referendum.
UPDATE 10:00: PM Viorica Dancila says she voted "Yes" in the referendum. "Each of us has the civic duty to express ourselves about themes that are important for society. Family is an important topic for all of us. I voted for the values in which I believe," she said after voting at a high school in Bucharest.
Hotnews.ro reported today that during her term as an MEP, PM Dancila voted in favor of a report encouraging the recognition of same-sex marriages in EU member states.
---
Currently, the family is defined as "the consensual marriage between two spouses", while the referendum would change the phrase to "the consensual marriage between a man and a woman."
Voters will have to provide a "Yes" or "No" answer to the question: "Do you agree with the Law to revise the Romanian Constitution in the form adopted by the Parliament?"
According to law 3/2000, the referendum is considered valid only if a 30 percent participation threshold is met, of the total number of citizens registered on the permanent electoral lists. Another condition for the referendum to pass is having at least 25 percent of the total number of voters express a valid vote.
The first report regarding participation will be released at 11:30 am, with data collected up until 10 am. The following reports will be as follows: at 2:30 pm with data obtained before 1 pm; at 5:30 pm for 4 pm; at 8:30 pm for 7 pm and at 10:30 pm for 9 pm.
Polls will close on Saturday at 9 pm, and the referendum will continue on Sunday starting with 7 am.
On Saturday night, presidents of the electoral offices in polling stations will fill out two copies of an official statement. One copy will be posted on the door of the electoral office and the other copy stays with the office president, who will have to hand it in to the local electoral office on Sunday.
When the polls close on Saturday, presidents of the electoral offices in polling stations must seal all entryways (doors and windows) in the station with stamped and signed paper bands.
The first polling station opened last night in Auckland, New Zealand, at 7 am local time (9 pm Romania time), soon followed by the stations in Australia (Brisbane, Canberra, Sydney, Melbourne, Adelaide).
The last polls to close on Monday morning (7 am Romania time) will be those in Los Angeles, Seattle, San Francisco, Las Vegas, Sacramento, Phoenix and Portland (US) as well as Vancouver, in Canada.