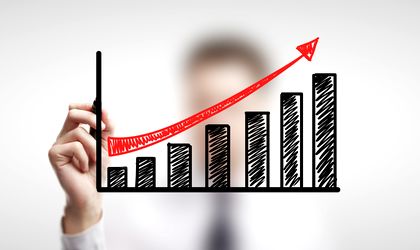 The Romanian economy expanded by 4.8 percent of GDP last year to RON 759.2 billion, with higher contributions of output coming from trade, retail, repairs of cars and motorcycles, transports and warehousing, hotels and restaurants, according to the preliminary data published by the National Institute of Statistics (INS).
Compared to the third quarter of 2016, the GDP in Q4 2016 was in real terms by 1.3 percent higher. Compared to the same quarter of 2016, the GDP grew by 4.7 percent on gross series and by 4.8 percent on seasonally adjusted series.
The main sectors that contributed to GDP formation: The industry had a share of 23.1 percent to the formation of GDP, up 0.4 percent year-on-year. The technical, administrative and support services accounted for 7.4 percent of GDP, up 0.6 percent y/y. The information and communications sector generated 5.6 percent of GDP, up 0.7 percent y/y.
"Though we were enthused at first by the acceleration in quarterly terms, the details seem to hide some weakness. It seems like it was not a tick-up in private consumption (up by just 0.2% from 3Q16) that helped a lot, as inventories building up mattered more. This, coupled with a soft start of the year for retail sales, does suggest that 1Q17 might be rather weak in terms of economic activity expansion. In YoY terms, it was inventories (+3.3ppt) that added more than private consumption (+2.5ppt) to the 4.7% print, more than compensating for the drop on the fixed capital expenditures side (-1.9ppt)," said analysts at ING Bank Romania in a note.
The INS added that the final consumption of households was up by 7.4 percent in volume, contributing by 4.5 percent to the overall growth of GDP. The exports of goods and services was up by 7.6 percent, while imports amounted to 9.3 percent.
For this year, the European Commission, the executive arm of the European Union, forecasts an economic growth rate of 4.4 percent, while the International Monetary Fund puts this figure at 3.8 percent.
Meanwhile, the government expects the local economy to grow by 5.2 percent.