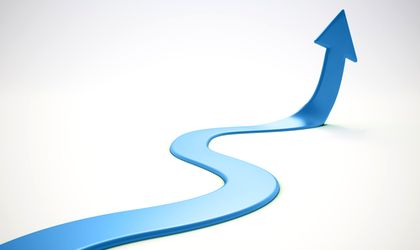 Romania's economic growth slows down to 4.9 percent in the first nine months, a flash estimate of the National Institute of Statistics (INS) informs. According to Fiscal Council president Ionut Dumitru, the growth is below expectations.
The growth of the Romanian economy seems to slow down, according to the INS, but remains however at a high level, up by 4.9 percent year-on-year in the first three months of the year. "The growth is below expectations and it will be difficult to believe that this year the economy will grow by 5. It is confirmed the fact that stimulating growth through fiscal measures such as VAT cuts has an effect only on the short term, and not on a medium and long term," Dumitru said.
According to the FMI, Romania will record in 2016 a 4.7 percent economic growth, a negative inflation of – 1.5 percent, a current account deficit of 2 percent of GDP and an unemployment rate of 6.4 percent, down by 0.4 percent year-on-year.
The Romanian budget is built around a 4.1 percent economic growth, and most analysts forecast this year a 5 percent growth. The FMI estimates that the economic growth will stand at 3.8 percent next year.
"While detailed data is due for release on December 6, we suspect that a slowdown in private consumption and cooling down in investments due to fading effect of EU funds related projects are main factors behind the poor print", ING experts say. "Despite receiving significant boosts to disposable income from fiscal and wage policies and with likely more to come even from partial implementation of electoral promises and the upcoming fiscal easing in January 17 (1ppt VAT cut and elimination of special fuel excise), it could be that the consumption story is running out of steam. Still, next year should see a pick-up in investments on the back of higher absorption from the new EU budgeting programme."
The ING experts warn that the consumption driven fast paced growth is unsustainable and the long-term economic growth is capped by structural issues at a lower potential level. "Such factors include demographic trends, labour market frictions, low productivity and competitiveness issues related to infrastructure and state bureaucracy. Unless the structural issues are urgently addressed, long-term growth prospects are not encouraging. As noted in our 'Structural slowdown' report these problems are not making it into the top priorities of the political agenda," the experts argue. "Instead, there is a tough race ahead of the elections in luring voters with promises of lower taxes and higher incomes. Based on an ING international survey, 12 percent of Romanians said that they "would spend most of the money", when asked what they will do if they receive an additional EUR 200 in their bank accounts in the course of a year. This is below the 26 percent result for European consumers as a whole. This suggests that consumption as a growth engine is becoming less effective."
ING experts forecast that the 2017 growth stands at 4.1 percent.
Georgeta Gheorghe