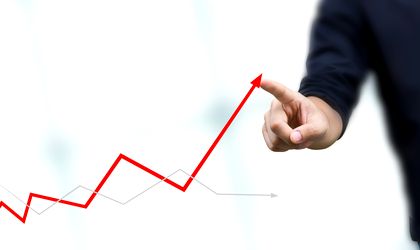 Romania's GDP expanded 8.6 percent on gross series in the third quarter of the year compared to the same period of last year, according to a flash estimate by the National Institute of Statistics (INS).
On adjusted series, the expansion of the economy in the third quarter stood at 8.6 percent. This was the biggest growth posted by an EU member state in Q3.
The GDP expanded in real terms by 2.6 percent in the third quarter versus the second one.
In the first nine months of the year, the Romanian economy grew by 7 percent on gross series and by 6.9 percent on seasonally adjusted series.
"Today's data is not really changing our long-term view on a structural slowdown primarily due to the scarcity of labour resources, but this will happen from a higher base. With growth in Germany, which accounts for over 20% of Romanian exports, surprising to the upside as well, we see robust external demand partially offsetting the expected cool down in domestic demand (on higher interest rates, lower incremental fiscal impulse, weaker RON) which should avoid a sharper slowdown. Widely followed ratios (budget deficit, C/A deficit, public debt) relative to the higher nominal GDP denominator should look better than previously forecast. It looks that some worries could be offset by the economy growing its way out of troubles," said analysts at ING Bank Romania.
The National Commission for Prognosis has recently upgraded Romania's economic growth estimate for this year from 5.6 percent to 6.1 percent. The European Commission has already improved its outlook for Romania's economy from 4.3 percent to 5.7 percent of GDP.
The European Bank for Reconstruction and Development (EBRD) expects the local economy to grow by 5.3 percent this year, while the IMF forecasts an expansion of 5.5 percent for Romania's GDP.