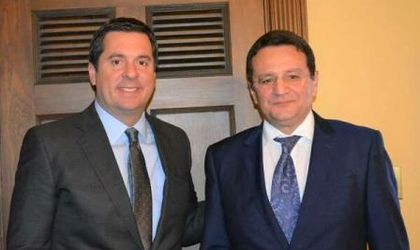 Romania's decision to allocate 2 percent of GDP for defence is excellent, says the Republican congressman Devin Nunes, the president of the Commission for Information Services from the Representatives Chamber and member of the executive Committee of Transition team of the elected president Donald Trump, during a meeting with Romanian ambassador to Washington, George Cristian Maior.
According to a press release of the Romanian Embassy at Washington, the Romanian ambassador underlined the excellent relation between Romania and USA and the interest for the cooperation consolidation within the strategic partnership with the future Trump Administration and the 115th Congress and the fundamental role of Bucharest in the stability assurance and the regional security, including by increasing the budget allocation for defence.
Maior and Nunes discussed about the strategic role of the Black Sea region in the current geopolitical context and underlined the relevance of the USA mission in the maintenance of the security situation in Central and Eastern Europe, but also in the European allies' role in keeping transatlantic stability and balance.
Moreover, Nunes expressed his interest in making a new visit in Romania, says the release.
Nunes visited Romania in August 2016, within a meeting with president Klaus Iohannis and expressed his appreciation for the anti-corruption fight in Romania.
Georgiana Bendre