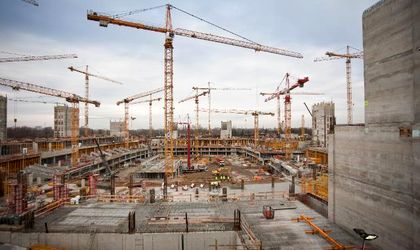 The construction market had a positive development in 2017, and the numbers from the first quarter of 2018 show that the turnover in this sector could come close to RON 30 billion in 2018, which would be over RON 3 billion more than in 2016, according to a study.
The positive evolution is based on the increased trust in the economy by investors and the growing demand in all market segments, from offices to residential spaces. Currently, the constructions market contributes 4.6 percent of the GDP, but business owners say that its potential could be as high as 8-9 percent.
According to data from the National Institute of Statistics, the volume of construction works has grown by 8.4 percent in the first two months of 2018, with a significant evolution in all segments. Large repair works advanced by 40.4 percent, maintenance and current repair works by 37.5 percent, and new constructions by 28 percent.
The most dynamic segment in terms of the number of construction permits was the residential sector, where the volume of constructions increased last year by 69.7 percent. In 2017, 41,603 construction permits were released for residential buildings.
The first two months of 2018 show a growth of engineering constructions and non-residential buildings by 34.3 percent and 17 percent respectively, another sign that the market is accelerating in this segment as well, after a relative stagnant period in the last 2-3 years.
There are over 60,000 companies in the construction market, with over 150,000 employees. These numbers remained constant between 2012 and 2016. The largest turnovers in the market were made by companies in the Bucharest area and in cities like Cluj-Napoca, Timisoara, Brasov and Ploiesti.
Specialists say that the preliminary data from 2017 indicate a significant advance of turnover and that 2018 could bring RON 30 billion in turnover, a record of the past decade.
Construction firms have optimized investments and the residential sector stood out the most on the basis of growing demand. Investments in this segment will see a positive dynamic in the following period as well, as Romanians are more interested in real estate. The growth of salaries and the access to loans will stimulate the advancement of the constructions segment.
Office and industrial space constructions are also growing, thanks to the expansion of some major players.