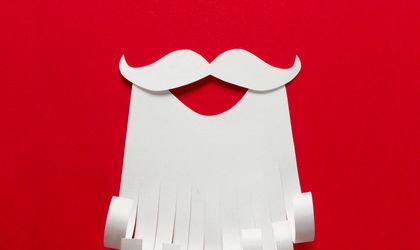 With retailers rushing in the winter holiday season by starting their promotional campaigns at the end of October, Romanians have more time to spend on Christmas gifts. BR asked specialists whether local consumers are ready to open their wallets and start the winter holiday season two months before Christmas, at least from the gifts perspective.
By Anda Sebesi, Romanita Oprea
Ikea, Carrefour, Mega Image, KFC, Coca-Cola and Tuborg, just to name few, started pushing the pedal early on, rolling out their marketing and communication campaigns for this Christmas season. This year, Romanians began seeing festive preparations at the end of October, earlier than previous years. The last months of the year generate the largest sales for market players, with December reaching peak volumes, pundits say. Retailers have therefore made use of their entire arsenal to capitalize on this business opportunity. Moreover, what better moment to do this than for Christmas?
"December is full of emotion and effervescence, when people are keen to buy things and give presents to their friends and family. So it's a good moment for retailers to boost their marketing campaigns to highlight their products and services, attract new customers and maintain their existing ones," says Ruxandra Serban, founder and CEO at Erka Synergy Communication, a communication agency specialized in retail clients (which put a foot on French ground last year). According to her, about half of Americans start their Christmas shopping before Halloween, while Romania is only now catching up to this trend. "For example, France and England have started their official winter season in November for many years now," adds Serban. Echoing the same idea, Hortensia Nastase, vice-president creative services at Lowe Group, says that the American giant Walmart starts Christmas fever as early as November 14, when it begins sprinkling holiday music into its regular in-store mix.
Hortensia Nastase
Retailers are not the only ones that have begun the battle for Romanians' wallet at Christmas time. Some manufacturers have already increased their portfolio with traditional products for this time of year. For example, at the beginning of November, Tuborg announced the launch of its traditional Tuborg Christmas Brew, a special beer that has been marking the beginning of the winter season since 2000. On the first Friday of November the limited edition is launched simultaneously on many European markets, including Romania – continuing a 36-year tradition that began in Denmark in 1981. "Our limited edition Tuborg Christmas Brew represents a symbol of the winter holidays in Romania and has become a traditional messenger of Christmas time spent with friends and family," stated Paul Markovits, marketing vice-president at URBB.
In addition, KFC has included its traditional "Christmas Bucket" in its menu, a product 'baked by Mothers', along with its limited edition Seattle's Best Latte, a specialty coffee with gingerbread aroma and chocolate topping – two symbols of the winter season. "Christmas remains the most important holiday for a family and the mother plays a significant role when it comes to cooking large Christmas meals with passion. Thus, our brand's fans will enjoy the authentic taste and typical atmosphere of the winter holidays," said Monica Eftimie, chief marketing officer at KFC.
Many feel that mid-autumn is not quite the proper time to start marketing campaigns for the Christmas season. However, as Serban says, consumers responded positively to earlier winter campaigns, with Black Friday being an example in this regard. "There is a real culture in Western countries about how 'it's never too early' to get into the winter holiday spirit. Consumers are attracted by the magic of Christmas and the general feeling of wellbeing and family time," added the Erka representative. Companies therefore bet on the psychological and emotional impact and know how to capitalize on emotion to increase their sales during this time of year. "Creating the Christmas atmosphere is one of the most effective and least expensive marketing strategies that gives great results during the winter holidays. It is important to transport customers into the Christmas atmosphere and make them feel important and spoiled, by offering them special gifts, promotions, discounts or other features," adds Serban.
According to Bogdan Nitu, general manager and partner at Webstyler, online consumers follow an international trend where shopping for the Christmas season sometimes starts as early as September. Most agree it helps them spread out their spending and avoid the holiday crowds. The agency's client research shows there is a growth in sales during the holiday season; even those clients that do not have a seasonal product or service allocate budgets to campaigns during this period, as people have a certain energy when it comes to Christmas. Digital content is also adapted to this energy during the period as brands try to connect with people and respond to their real needs.
According to compari.ro, Romanians are more open to making online purchases during the winter season and will spend about RON 660 on gifts this year, 6 percent higher than in 2016. Clothes, cosmetics, toys, watches, jewelry and books are among the most popular presents with Romanians. The same research finds that, despite significant financial limitations for many buyers, during the winter holidays retailers can count on increased demand for TV sets, smartphones and tablets. According to the same source, this Christmas, Romanian netizens intend to buy an average of six to seven gifts for their relatives. In addition, 66 percent of respondents intend to buy gifts for their children, parents or siblings and spend RON 118 on average. Asked what kind of presents they intend to give, 60 percent of the respondents said that they want to bring joy through quality gifts, considering the quality-price ratio when weighing up a purchase.
Rushing the Christmas promotions season impacts both the way consumers interact with brands as well as their purchasing decisions. As Ondina Olariu, business director at Geometry Global, says, this is a strategy to attract customers and secure shopper spend for various brands and retailers. "The long-term impact of such a strategy is a decrease in impulse buying along with a more structured shopping list and more options for where to buy from," said Olariu. According to her, at Christmas time supermarkets rely on gift and impulse categories like wine, chocolates and flowers, increasing threefold the number of impulse gifts they stock and often finding new places to put the merchandise. Meanwhile, discounters, known for having a limited choice, often boost their assortments for Christmas. "For example, Lidl, with a base level of about 1,800 SKUs (stock keeping units) can surge to 3,600 in new stores around Europe. Aldi states that it goes from 1,600 SKUs during a normal week to over 2,600 during Christmas," added Olariu.
Ondina Olariu
As Oana Mirila, director of qualitative research at GfK Romania, told Piata magazine earlier this year, expectations for consumer spending are optimistic for this Christmas. "It remains to be seen who will have the most effective and creative way of blending empathy with technology and digitalization. The stake is to build communication and to create different experiences," she said.
How brands do Christmas abroad
At international level, Coca-Cola's campaign for this year extends to packaging, with limited edition packs featuring the image of Father Christmas enjoying a bottle of coke. The marketing campaign is the biggest ever, with the company set to spend over GBP 7 million during the Christmas period. The media investment extends to experiential, radio, cinema, OOH – with a bespoke bus format that adds a twinkle to the ads – and digital. Coca-Cola has also partnered with Snapchat and will offer a variety of filters and lenses throughout the Christmas season in the UK and Ireland, according to marketingweek.com.
Another American giant, Amazon, is hoping to spread some Christmas cheer with a festive campaign that shows its boxes having a sing-a-long to Give a Little Bit by Supertramp, as they head off on a "magical journey" from the warehouse conveyor belt around the world via planes, boats and trucks. The message is held together by the story of a female commuter buying a gift for a little girl, says the same source.
Coca-Cola and Amazon are just two examples of brands that vie to draw consumers' attention on the international market, striving to be associated with the spirit of Christmas in their customers' mind.
It's all about the sales
However, bottom line, is there a growth in sales? Are Romanians starting to buy Christmas-related products earlier or is it just a lot of fuss for almost nothing? Nastase of Lowe Group says that we don't realize the level of skill, expertise and budgets that brands invest in communicating around this proudly or sheepishly admitted addiction to the holidays. Studies have shown that playing Mozart or Vivaldi in a wine store can make shoppers buy more expensive wines, and that slow music in restaurants makes diners linger longer and spend more. Starbucks employs two dedicated people to curate the Spotify playlists used in all its coffee shops. "It actually keeps its holiday music plans under tighter wraps than even the design of its hotly-awaited holiday cups. And if some brands work the entire year on their Christmas campaigns, why not have consumers enjoy it for more than a month?," said Nastase.
In turn, Olariu of Geometry Global says that most channels report growth in sales at Christmas time, while online players report sensational results. But, in this context, the real question for both brands and channels is how they measure success: how much of their growth is postponement of spend left on the seasonal list or fore-spend that will impact Q1 next year, or how much extra sales were the figures they relate to as previous year results.
Another good indicator of growth in sales is the forecasted seasonal budgets consumers allocate to the winter holidays, which is on an upward trend on the local market. As pundits say, consumers' budgets are split into two categories: gifts and the Christmas meal and decorations, with food items growing more in spending intent versus gifting.
"Shopping by channel needs to be looked at in a larger, occasion-related context. What we notice is that the Christmas gifting occasion is shifting from its traditional meaning, into new territories. We can speak of the 'family investment' items that make it to the Christmas gifting list and are driven mostly by Black Friday. Therefore, the investment in new gadgets, electronics or white goods for the family is concentrated around Black Friday, but also fulfils the wish list for Christmas. If we consider this, a considerable amount of sales for Christmas are happening in the online environment, both in value and volume," outlined Olariu.
Another territory is the "check list" area, with convenient, standardized gifts, where the hyper/super formats play with most of the traditional categories, with investment in packaging and formats. "If we look at what happens across the world, we can forecast that the battle of who's going to capture Christmas sales will encompass new dimensions: personalized gifting, variety or customization to the level of exclusivity and gourmet offers when reaching out to the Christmas meal makers," said the Geometry Global representative.
Added Olariu, "For example, this year, 'Handmade by Amazon' has expanded to include over 5,000 artisans that offer unique gift items, all part of the Marketplace offers. The retailer Target implemented GiftNow on its website, a new feature through which guests can send an e-gift box, of which the recipient can switch the color or size, or change the item. Discounters are thriving on their luxury brands, up-trading to gourmet propositions for the Christmas meal already."
When it comes to the amount of creative local work versus the adaptations of global brands' advertising, Nastase believes that it's hard to make a reliable split between adapted and local, but adapted work still unfortunately forms the majority. However, she is hopeful that we will continue to see more brands doing local work for Christmas, and not only in advertising. This would require more courage from clients, both in vision and in budgets.
What will influence the purchasing decision this Christmas?
Customers will concentrate on quality and tend to satisfy their curiosity or pleasure by focusing on high-end brands or categories meant to pamper them.
Romanians' need for authenticity, tradition in recipes, ingredients and products in general: they will look for products that inspire authenticity, quality and know how to tell a success story.
Romanians' need for safety and confirmation of confidence: we're still a society that focuses on confidence and trust and is reluctant to risk.
Romanians' need for freedom of choice and customization. Retailers can meet this specific need by coming with customized offers and special promotions.
Association with values, ideals, aspirational choices – all of these make consumers feel proud of their association with a specific retailer or manufacturer.
The use of technology to support brand promises such as comfort, fast and funny, as people are often very busy during the winter holiday season.
Source: Piata Magazine