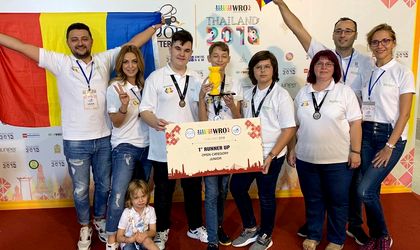 For the first time in the history of the World Robot Olympiad, a Romanian team of three teenagers won first runner up with an automated system of growing micro greens. The competition took place in Chiang Mai, Thailand, and 486 teams from 63 countries participated. The winning Romanian team is part of Sophia Science, a private Robotics club from Galati, and they were able to attend the competition thanks to private sponsorships. Romania doesn't have a Robotics National team and the Romanian state provides no financial support to such initiatives. 

David Calugaru (13 years old from Vasile Alecsandri high school, Galati), Stefan Stoian (14 years old, Mircea Eliade high school, Galati) and David Mihai (14 years old, Vasile Alecsandri high school, Galati) created the Microbots INC team that won the silver medal at the most prestigious world Robotics competition. The teachers that coordinated the team were Mirela Voinea and Liliana Dău (Byte Force Robotics club) and Marinela Buruiana (Sophia Science club).
This year's theme was "Food Matters", and the three brilliant teenagers created an automated system of growing micro greens.
"Today we use the planet's resources until they can no longer regenerate. Mankind has already lost control of the way food is being produced, transported and sold and is destroying the environment in the process. We are in a hurry most of the time and we prefer to eat fast food, which impacts our health in a destructive way.  For today's lifestyle, we've created a mini-farm with healthy micro greens straight from a vending machine", teacher Marinela Buruiană, one of the coordinates, stated.
"Our system is actually an automated farm that grows vegetables. The machine cand be placed anywhere, from supermarkets to schools or office buildings. The robot prepares the soil for the plant, places the seed in the soil, wets the plant and lifts the boxes in a so called vertical growing tower.  Three days after the seeds are regularly watered, an autonomous system provides LED lighting for the photosynthesis process. After another three days the micro greens can be sold", David Calugaru, one of the member teams explained.