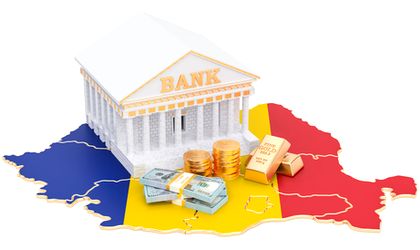 The bank loans granted to individual and corporate clients in Romania rose 6.1 percent year-on-year in March, to RON 236.7 billion (EUR 50.8 billion), and the amount of deposits increased by 10.8 percent, to RON 303.7 billion (EUR 65.2 billion), according to National Bank of Romania (BNR) data released on Wednesday.
RON-denominated non-government loans, which include loans granted to individual clients and companies, grew by 15.9 percent year-on-year in March, to RON 150.6 billion, household loans surging by 23.3 percent.
During the same period, forex-denominated loans declined by 7.7 percent, to RON 86.05 billion-forex equivalent, due to stricter rules regarding forex bank loans.
Bank deposits have become less attractive in the third month of this year, as a consequence of low interest rates and rising inflation (+5 percent in March).
RON-denominated deposits of residents (individual clients and companies) fell by 0.7 percent month-on-month, to RON 206 billion, and the annual growth rate slowed to 10.2 percent, from 12.6 percent in February, central bank data show.
Forex-denominated deposits declined by 0.03 percent month-on-month, to RON 97.7 billion-forex equivalent, but increased by 11.9 percent year-on-year – down from 13.4 percent in February.
During the last couple of years, Romania's bank clients increased their creditor status against banks due to strong savings and weak credit market, deposit holders being technically the banks' creditors.
In March, bank deposits exceeded loans by 28 percent, as credit market is still affected by low demand, experts say.
Photo credit: dreamstime.com