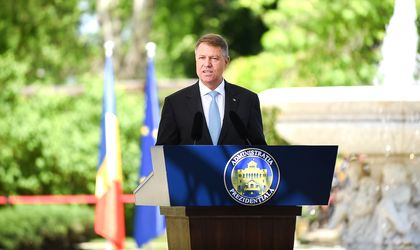 Romanian president Klaus Iohannis said that the planned changes to the judiciary announced by the minister of justice Tudorel Toader represent "an attack of the rule of law, the independence and well-functioning of the judiciary, as well as the fight against corruption."
UPDATE: Several hundred people took to the streets on Wednesday evening in Bucharest, to express their anger at the government's plan to make changes in the judiciary. The people called for the resignation of the center-left government led by Mihai Tudose.
The president went on to say that if these changes get through, the European monitorization of the Romanian justice system through the Cooperation and Verification Mechanism (MCV) will remain in place on "unlimited term".
President Iohannis pointed out that Romania goes through a favorable moment at international level, especially at EU level, and the major changes proposed by the government to the judiciary would take the country back to the period when "pressure was exerted on the judiciary."
"Part of the measures announced aim to generate a false issue and the idea that the Romanian president is the political agent that has to be eliminated from the procedures of appointing leaders of the judiciary," said the president.
According to the amendments presented by Toader to three laws, the president would be strapped of his role of proposing Romania's general prosecutor, the head of the anti-graft directorate DNA and of the DIICOT, which fights against organized crime and terrorism. Instead, the proposals would be made by the minister of justice. The president suggested this will ultimately weaken the judiciary and the Superior Council of Magistrates (CSM) will also have a smaller influence in this area.
The president added that the independence of magistrates will be harmed because of increased political pressure and threats with patrimonial liability in case of legal errors.
The minister of justice added that a new department will be created to investigate judges and prosecutors.
"In the absence of legal and institutional guarantees regarding the independence of the new structure, the risk of hitting the fight against corruption is very high," said the president.
President Iohannis said these changes need to be put up for public debate, while the magistrates also need to present their opinion.
"If this mix of measures will be assuming by the government and approved by the Parliament, the efforts of Romanian in more than 10 years could be cancelled and the judiciary will return in an area in which it was subordinated to the politicians," concluded the president.
The minister of justice said that these changes have nothing to do with the pardon bill or with legislation related to abuse in office or negligence in office.
Romania recorded massive street protests earlier this year after the former government of Sorin Grindeanu approved amendments that would partially decriminalize the abuse in office. Both European and American political leaders, together with the civil society in Romania, asked the government to repeal the ordinance, something which happened eventually.