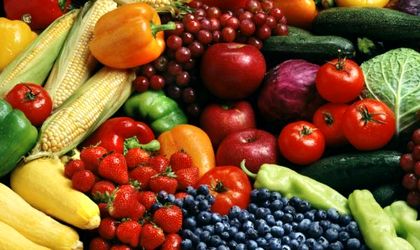 Romania's annual inflation rate remained steady at 0.6 percent in May, with fruits and vegetables being more expensive than April, the highest level from the last two years, according to the data published on Monday by the National Institute of Statistics (INS).
The INS data shows that consumer prices went up in May on average by 0.28 percent compared with April.
Food became the most expensive in May, by 0.61 percent more on average, compared with April, while non-food products climbed by 0.07 percent and services prices went up by 0.21 percent.
Compared with 2016, food prices increased in may by 2.61 percent and non-food products became more expensive by 0.23 percent, while services prices went down by 1.26 percent.
This May, the value of the inflation rate became positive again, after 19 months of negative values.
The highest prices increases were registered in May at potatoes (8.8 percent), air transport (7.6 percent), citrus (5.9 percent) and fresh fruits (3.8 percent), compared with April.
On the other hand, the highest drops in prices in May were registered for eggs (-2.2 percent) and postal services (-1.1 percent), the other prices having lower fluctuations.
Food products have a share of 34.65 percent in the consumption basket based on which INS calculates the inflation in Romania, while non-food merchandises represent 45.45 percent, while services represent -19.9 percent.
At the end of 2016, annual inflation rate was -0.5 percent.