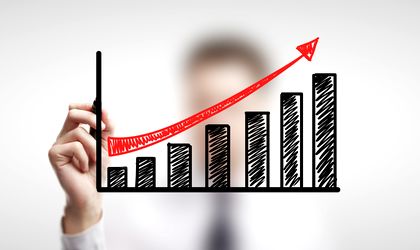 In the first nine months of Romania's economic growth in 2017 was driven by household consumption, which went up by 9.7 percent, data released by the National Institute of  Statistics (INS) shows.
Between January – September, the GDP increased by 7 percent in real terms year-on-year, to over RON 696.7 billion.
"The growth was due mainly to the final consumption expenses of households, whose volume increased by 9.7 percent, and which contributed to by 6.1 percent to the GDP increase," the INS said in a statement.
The sectors that contributed most to the GDP increase were the industry (+1.8 percent), with a share of 23.2 percent to the GDP and whose share increased by 7.6 percent, retail, car and motorcycle repair, transport and storage, hotels and restaurants (+1.6 percent) with a share of 18.2 percent to GDP growth and whose volume increased by 8.7 percent.
Agriculture, forestry and fishing (+1.1 percent) had a smaller share to GDP formation, but recorded a significative increase in the volume of activity (24.3 percent). Professional activities, scientific and technical, administrative services and support activities (+0.7 percent) had a share of 7.1 percent to GDP formation and the volume of activity increased by 9.8 percent.
Beginning November, the National Forecast Commission revised up its estimations on Romania's economic growth in 2017, to 6.1 percent, from 5.6 percent, as previously set in its autumn forecast.
Similarly, the European Commission (CE) revised its forecast on Romania's economic growth and deficit in 2017 and 2018, warning that lack of certainty on the government policies could affect economic growth.
According to forecasts by EC, released on 9 November, the Romanian economy is forecasted to expand by 5.7 percent in 2017, representing a significant growth compared to the previous forecast which set the growth at 4.3 percent.