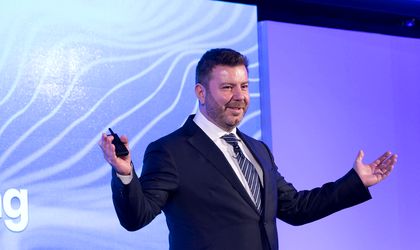 Daniel Dines is one if the Romanians that made our country famous worldwide with a technology that sits on the edge of the future. UiPath, the company that Dines manages, is the leader of the Robotic Process Automation (RPA) and was recently values at over USD 3 billion.
UiPath was born in 2015 from a company that Daniel Dines had since 2005, named DeskOver. Together with Marius Tarca it went on to a firm specialized in automatization solutions, a field in which Dines was developing software since 2012. Uipath came after a process of rebranding ant the year was a turning point for the company: it had found global partners for Business Process Outsourcing (BPO) and consultancy for RPA.
It was also the year when the first funding was found: USD 1.6 million from three American investment funds, Credo Ventures, Earlybird and Seedcamp. The round took 14 months of negotiations and it was concluded in September, at the Seedcamp Week in London. The investment was used to develop the team and for extending around the world.
"We are a quite unique case due to the fact that we are working with enterprise software. Most of the companies that reach unicorn status come from the consumer zone", said Dines.
UiPath reached unicorn status after receiving in 2018 a financing of USD 153 million in a funding session lead by Accel Growth Fund and supported by Kleiner Perkins Caufield Byers. At the time, UiPath could count about 200 large enterprises among the customers, of which 30 percent were in USA, 40 percent in Europe and the rest in Asia.
"Right now, we are focusing on growing and strengthening our partnerships with our service integrators, service providers, consulting partners and technology partners. Especially with the integration of leading technology partners such as Oracle, Celonis and ABBYY, we have realized an expandable and business agile RPA platform that can actually realize a 'digital workforce'," said Dines at the time.
In 2017 UiPath opened offices in Australia, France, Japan and Singapore and reached 400 employees. The list of customers also went up and included Allianz, BMW Group, Dentsu Inc., Huawei and Sumitomo Mitsui Financial Group. The company also launched UiPath Academy, allowing people around the world to learn the UiPath RPA solution.
It also set a strong footing in Japan after opening the Tokyo-based UiPath K.K. The RPA solution fits perfect with the Japanese business style and it is perfect for the ageing population of the country.
UiPath valuation went recently to USD 3 billion after receiving USD 225 million in a new founding round from Sequoia Capital and Google CapitalG fund. It was right after "The Forrester Wave: Robotic Process Automation, Q2 2018" report recognizes UiPath as the leader of the worldwide market.
UiPath and Daniel Dines, together with the silent partner Marius Tarca that doubles as CTO of the company, came a long way in just a few years. It is not important if the company is no longer Romanian according to the shareholders nationality, but it is important that we have success stories with Romanian entrepreneurs.
"A very important lesson that I've learned – and I did that the hard way – is that you need to know a subject very, very deeply in order to then be able to build a simple solution. If you don't understand all the details, all the kind of branches of a particular solution, you will end up building something very simplistic. Simplistic is very easy. To build something simple, on the other hand, is very difficult. That is why we need to spend 10 hours a day simply thinking about all the implications of a product," said Dines.
A lesson tha all Romania should understand.